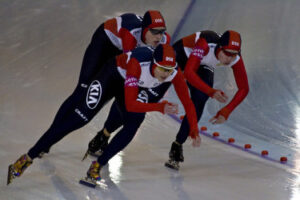 The Olympics are underway, but it's not too late to get tickets. There are more ways than ever to get them—and some are still selling at bargain prices.
Note: Story updated on Feb 22, 2010
New tickets
Your best bet for getting tickets directly from the Vancouver Organizing Committee (VANOC) is to keep checking their website, www.vancouver2010.com. More new tickets may be released if sponsors return them or if venue configurations change. VANOC's tickets generally sell for between $25 and $175, although some popular events, such as figure skating, run around $450. VANOC is also offering tickets by auction. Bobsleigh and speed skating were selling for $200 to $300 each in late January. The only authorized Olympic ticket vendor in the U.S. and Canada, CoSport (https://vancouver.jetsetsports.net/tickets/), might also have tickets, although its mark-ups can be high.
Ticket brokers
There are a plethora of scalpers—ahem, ticket brokers—selling tickets online, and there will likely be scalpers outside of Olympic venues too. But even though scalping is legal in B.C., you need to be careful. Some fans who bought tickets online for the Beijing Olympics never received them or ended up with counterfeits. Avoid eBay and Craigslist, and look for a professional broker that is a member of a trade association, such as The Canadian Ticket Brokers Association or the National Association of Ticket Brokers. Use a credit card and avoid low-ball offers that might be scams. Be flexible and you'll have a good chance of getting
a bargain. For example, as countries are knocked out of competition, often people from those countries decide to sell their tickets to brokers, and prices drop. Mario Livich of ShowTimeTickets.com, a Vancouver ticket broker, says if Canada is in the men's hockey gold medal game, tickets will be worth $3,000 to $5,000 each, but if not, they could go for as low as $600. You can also aim for less popular events, such as early round hockey and curling. As of late Jan­uary, brokers were selling tickets for all events, with prices ranging from $100 (biathlon) to $2,000 (figure skating).
Fan-to-fan
In December, VANOC decided to fight back against brokers by launching its own ticket resale marketplace (you'll need to register to see the fan-to-fan tickets). Tickets are subject to fees, but they are verified as legitimate. In late January, most of the fan-to-fan tickets were selling for $75 to $275. But you'll need Visa—it's the only payment accepted.
Update as of Feb. 22, 2010:
Face-value tickets currently available from  VANOC:
Women's ice hockey semifinal $100-200
Women's curling qualification $65
Tickets currently available by VANOC auction:
Women's 5,000 meter speed skating final $95-185
Women's Ice Hockey gold medal game $125-325
Women's free program figure skating $150-450
Women's gold medal curling $125
Men's gold medal curling $125
Short track speed skating $50-150
Figure skating exhibition $175-525
Tickets currently available on VANOC's fan-to-fan marketplace:
Many event tickets still available, including curling, alpine skiing, speed skating, ice hockey figure skating, cross country skiing, bobsleigh, victory ceremonies. Most prices range from $22 to $420. (Note: you'll need to set up an account before you can see the available tickets and prices.)
Tickets currently available to Canadian buyers from CoSport:
Women's two-man bobsled $109
Closing ceremonies $661-1,022
Cross country skiing $109
Women's qualification curling $101
Icedancing free dance $412-670
Freestyle skiing $79-191
Men's and Women's ice hockey $227-301
Men's speed skating $279-799
Victory ceremony $46