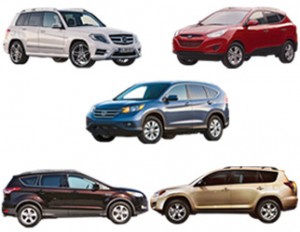 Big SUVs may have lost some of their lustre over the years, but the rising popularity of so-called "cute utes" just keeps motoring along. Automakers report sales of small SUVs and crossovers have more than doubled over the last decade and everyone from soccer moms to seniors to young urbanites love these little trucks.
Maybe it's their spacious trunks, commanding view of the road or the peace of mind that all-wheel drive can deliver. Whatever the reason, there are dozens of compact SUVs crowding showrooms these days, so we've tasked our panel of automotive experts with finding the five top cute utes based on value, performance, reliability and safety.
Honda CRV: $25,990–$35,090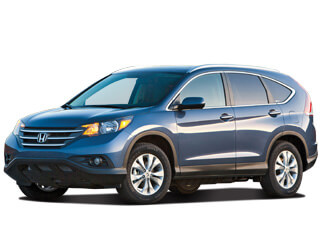 Best Deal: It was a tough fight for first place, but we gave the edge to the all-new 2012 Honda CRV. Although its new look doesn't stray far from familiar territory, this top safety pick now packs more power, burns less fuel and has a lower starting price than last year's model. "I'm always surprised how long these things last," says Dave Redinger, "I'm still servicing 1997 models." Like most of our picks, the CRV is designed for comfort and convenience over off-road prowess or hauling ability. And there is only one engine choice available—Honda's legendary 2.4-L, four-cylinder power plant. "Four-cylinder engines are powerful enough these days," says Petrina Gentile, "Why bother with a six unless you need to tow a boat?"
Toyota RAV4: $24,865–$37,300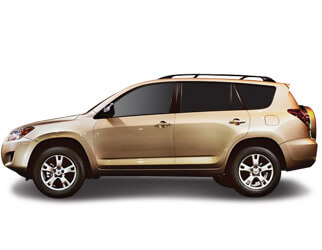 2nd: In second place is another perennial favourite. The Automobile Protection Association rates the RAV4 tops in its class for reliability and resale value. "The V-6 is a rocket with little fuel penalty compared to the four-cylinder," notes George Iny. Besides having two engine choices, the made-in-Canada RAV4 is our only pick with an option for seven seats. A full makeover is due next year, but until then Toyota keeps adding standard content like heated mirrors, Bluetooth and steering wheel audio controls. Howard Elmer says it's still good and practical, "but just not the cheaper, alternative, small SUV it used to be."
Hyundai Tucson: $19,999–$34,349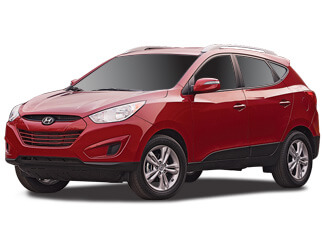 3rd: Rounding out our top three, Hyundai's smallest SUV has dropped its six-cylinder engine but still offers choices for those who prefer economy or power. "There's a 2.0-L engine in the base trim line, but go for the 2.4-L four-cylinder, which is strong enough that you won't miss not having a V-6," says Jil McIntosh. She also lauds the Tucson's comfortable interior and five-year, bumper-to-bumper warranty. Fuel economy is impressive with the Tucson, as is the long list of standard features on even the most inexpensive model, including rollover-sensing side curtain airbags. Only the exterior design left some unimpressed.
Mercedes GLK: $41,600–$43,800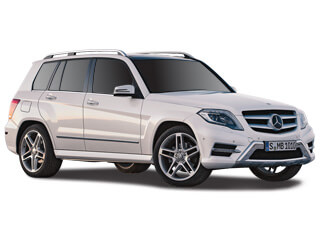 4th: Decidedly our priciest pick, this so-called "baby Benz" may be small in stature, but it's no slouch when it comes to power and refinement. The GLK's six-cylinder engine can go from zero to 100 km/h in 6.5 seconds and holds bragging rights for most oomph with 268 horsepower. An improved version due out in October promises even more bang for the buck, says Gentile. "For 2013, it also gets the addition of a long-awaited diesel engine." Iny declares the GLK a good deal for drivers who lease, but cautions the warranty terminates at four years.
Ford Escape: $20,504–$33,814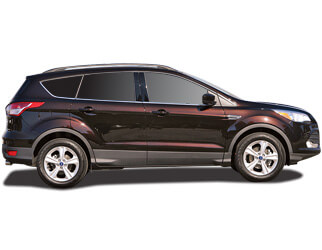 5th: Another totally new design, the Escape has shed its boxy, truck-like heritage in favour of swoopy lines that better reflect its main competitors. Unfortunately, Ford issued a rare "do not drive" recall in July after faulty fuel lines were blamed for engine fires on the new model. That notwithstanding, Ford hopes to build on the legacy of its perennial bestseller. "The new model is more car-like than the original and has a nicer finish," says McIntosh. Still, Escape fans may be torn by the makeover.
How we came up with the numbers
Price reflects the manufacturer's suggested retail price without options or destination charge. For cost of ownership, we used data from Edmunds.com and converted it to Canadian dollars per kilometre. The safety score is based on ranking by IIHS and NHSTA, the leading authorities in the U.S. Reliability is based on Consumer Reports data gathered from vehicle owner questionnaires. Driving experience is the average score for each model provided by our expert panel. To obtain our overall value score, we assign a weight of 20% each to cost of ownership and reliability, 10% to safety and 50% to driving experience. The higher the score out of 10, the better the value offered by the vehicle.
The Verdict
With its new modernized but familiar look, added punch and pocketbook-friendly performance at the pumps, the Honda CRV—universally lauded as a great long-life vehicle—is our top compact SUV in Canada. The RAV4 may run a close second—also aided by its first-class reliability and resale value—but Toyota fans will probably want to wait for the all-new model due in 2013. The Hyundai Tucson, our third pick, is no slouch either. Its combination of comfort, excellent fuel economy and great list of features have given it a strong reputation.
Expert Panel
George Iny: President of the Automobile Protection Association
Dave Redinger: Syndicated columnist and host of The Neighbourhood Mechanic on AM740 Radio
Petrina Gentile: Automotive journalist and producer of CTV's and BNN's Car/Business
Jil McIntosh: Automotive journalist for the Toronto Star and assistant editor at Autos.ca
Howard Elmer: Vice-president of the Automotive Journalists Association of Canada