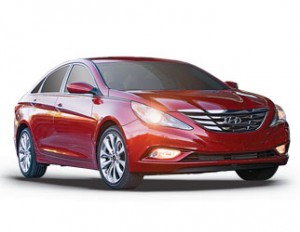 What has four doors, a deep trunk and a reputation for being staid? If you answered midsized sedans, we're not surprised. The family sedan has developed an enduring reputation for being reliable and boring. That reputation may have been deserved in the past, but many of today's sedans have nothing in common with the beige Ford Tempo that carried you to elementary school. This month we polled the automotive gurus on our expert panel to find the best choice among midsized sedans. All five of the category's top sellers offer good value, dependable safety and an enjoyable driving experience—and a few might even be described as cool.
How we came up with the numbers
Price reflects the manufacturer's suggested retail price without options or destination charge. To calculate cost of ownership, we used data from Edmunds.com and converted it to Canadian dollars per kilometre. The safety score is based on rankings by IIHS and NHSTA, the leading authorities in the U.S. Reliability is based on Consumer Reports data gathered from vehicle owner questionnaires. Driving experience is the average score for each model provided by our expert panel. To obtain our overall value score, we assign a weight of 30% each to cost of ownership and reliability, and a 20% weight to safety and driving experience. The higher the score, the better the value offered by the vehicle.
Expert Panel
Mohamed Bouchama: host of CablePulse24's AutoShop and executive director of Car Help Canada
Nadine Filion: award-winning automotive journalist based in Montreal
Petrina Gentile: automotive journalist and producer of CTV's and BNN's Car/Business
George Iny: president of the Automobile Protection Association (APA), Canada's oldest auto industry advocacy group
Jil McIntosh: automotive journalist for The Toronto Star and assistant editor at Autos.ca
Toyota Camry: $23,700–$33,700
The Camry got a complete makeover for 2012, but it can't seem to shake its stodgy looks. Still, our panel finds much to love and describes it as roomy, comfy and uncomplicated. This is the car you'd want your mother to buy, but not necessarily the one you'd want your friends to see you cruising around in. "It's solid and does the job, but it's a bland driving appliance," says Jil McIntosh. Engine improvements on the new model have boosted both horsepower and fuel economy, while stiff competition has pushed Toyota to lower prices. The Japanese automaker is offering attractive lease rates at the moment, making the Camry a tempting bargain with proven reliability.
Hyundai Sonata: $22,699–$34,199
All of our panelists agree Hyundai has a home run on its hands with the new Sonata. "Sweet styling, lots of features and extra-long warranty are all in the driver's favour," says McIntosh. The Sonata doesn't offer a six-cylinder engine like its competitors, but there is a sporty turbocharged model, and even the base four-cylinder engine pumps out 198 hp while still delivering excellent fuel economy. Filion says Hyundai has come a long way since its early years, when its vehicles' reliability was a constant issue. Plus the Sonata is the only model on our list to offer a comprehensive five-year warranty, besting the competition by two years.
Honda Accord: $24,790–$35,390
The Accord is a perennial bestseller in this category and scores well among our experts for driving experience. But the pros remind us that you'll pay a premium for the Honda name, and in a category where the competitors are so close in reliability, safety, cost of ownership and performance, you may not need to fork out the additional dough. "It's more expensive than the competition, and it's not as fuel-efficient," notes automotive writer Petrina Gentile. "Add a few options and the price will quickly get over 30 grand." With many new competitors offering more bang for your buck, Gentile believes it's getting harder for the Accord to compete. Still, the car won praise for its road manners and strong engine. Montreal journalist Nadine Filion also singled out the Accord for its "impeccable" interior and a finish that she says rivals Honda's luxury Acura brand.
Nissan Altima: $23,998–$32,098
Often overlooked and underappreciated, the slow-selling Altima is a bargain when combined with generous dealer incentives, says Mohamed Bouchama. Although it's getting long in the tooth, the Altima also gets high marks for style and sportiness. "It's a worthy contender," says Gentile. "It has an attractive design and the four-cylinder and V6 engines are equally fun to drive." The APA's George Iny gives the Altima the highest praise of our group, calling it "the most elegant car in its class" after the Sonata. The Altima is the only car on our list to feature a continuously variable transmission, which boosts fuel economy but can cause a whine when accelerating quickly.
Ford Fusion: $19,499–$30,999
With the lowest starting price on our list, the Fusion delivers good value, says Bouchama. Gentile also likes the spacious interior and standard features like A/C and cruise control, but says it doesn't deliver much in the way of excitement. "It has a lacklustre design that blends in with the crowd, and the interior looks cheap compared to the competition." Iny is kinder, calling the styling "very conservative, but nonetheless quite elegant." Our critics also fault the car for its noisy and unrefined engine. However, the panel points out that if you require your car to be sure-footed, the Fusion is the only one that offers an all-wheel-drive model.
The Verdict
According to our numbers, the Honda Accord ranked number one—but only because its safety and driving experience marks were a tad better than its competitors. The fact is, all five of the sedans we reviewed offer excellent value for the money, as you can see by how close the overall scores are. The cost of ownership, for example, is almost identical for each model we looked at. Even though the Hyundai ranked lowest in reliability, our experts agreed that the Sonata has been gaining fans at every corner and steadily improving in quality.