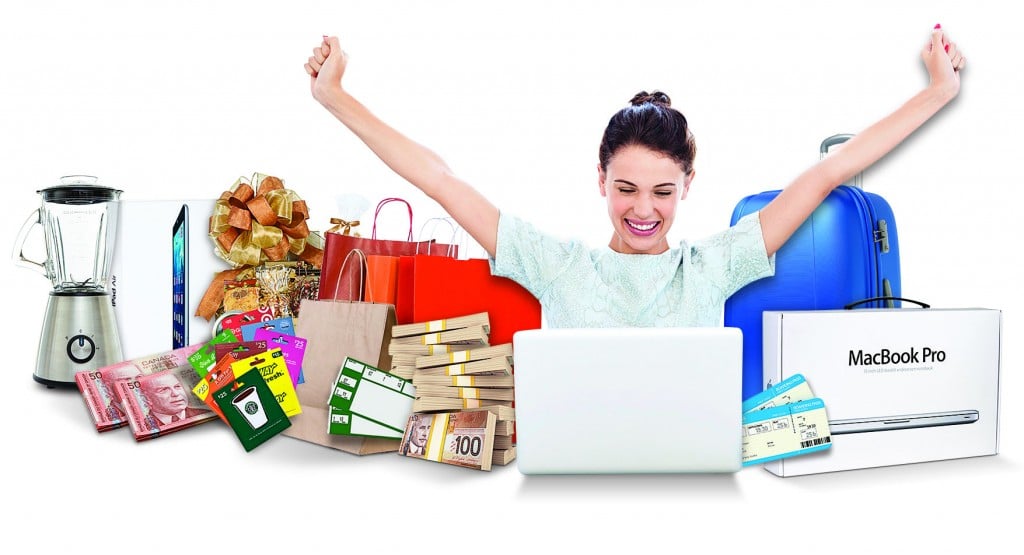 Erika Komori hasn't paid for clothes, travel or movies in over a year and rarely shops for gifts for friends. That's because over the last four years the 29-year-old Toronto product manager has won more than 700 online contests with prize money totalling $80,000. "I never thought winning prizes online could be so easy and so rewarding," says Komori, who has spent 20 minutes a day entering web contests since 2010, when she was a young graduate with little disposable income. Some of her big wins include trips to the Caribbean and Los Angeles, a chance to be a runway model at Toronto Fashion Week and tickets to see big-name musicians like John Legend. "I was looking for a way to win free entertainment while cutting back on my expenses," says Komori. "I actually saved enough to buy a house because the contest winnings helped me save on other expenses. Everyone should try it."
Komori insists that with a bit of effort, anyone can win. "If you have a computer and can spend a little time on social media, it's doable," says Komori. You can start by setting up your own Facebook and Twitter accounts as they are essential both to finding and winning contests. Other tips include finding Twitter hashtags by entering key words like "win" or "giveaway" to find contests in your city. Many contests on Twitter take as little effort as retweeting a message or answering a question. Kill a lot of time on Facebook? Find out which organizations, publications or companies frequently hold contests and "like" them to keep tabs on upcoming contests. Any special software tools that can help? Google Chrome has an autofill option that will quickly complete an entry form as does Roboform.
You can also check out key sites to find contests to enter. A couple to try include contestcanada.net and forums.redflagdeals.com/contests-f34/. Of course, a local contest would have even better odds so you can change your search criteria based on where you live, like "contests Vancouver."
Other tips include paying special attention during Hallmark holidays. Marketing promotions often center on Christmas, Mother's Day or Father's Day and companies are dying to give away their goods while trying to capture shoppers' attention. So check your calendar and get on your A-game.
Nearly as important as time of year is location. Live close to a city? Take advantage of that. Major festivals, concerts and movie premiers have promotional contests attached to them. "I could go out in Toronto every single night and do something for free," says Komori.
Finally, don't forget to check the fine print: You shouldn't just assume you're eligible to enter. At the same time, don't count yourself out without checking first. "One time I did win a Mother's Day experience and I wasn't a mother but I knew in the rules and regulations that you didn't need to be," says Komori. Even if you don't see yourself using a particular prize, ask yourself if you could give it to a friend as a gift later.
All of this sounds time consuming—and it can be—but it's up to you to decide on your approach. For instance, Komori searches for and enters contests each day while sitting on her couch watching TV. As she says, "I'm just sitting there anyway." So start up your computer today and start entering—who knows where it could take you.