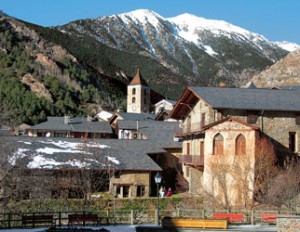 With Europe's economy skidding around like an overweight man on a crumbling ice floe, this winter seems an opportune time to strap on the skis and hit the slopes across the pond. While several chi-chi hot spots remain dollar-burningly immune to our pumped-up currency, some regions offer an ideal combo of great powder and welcoming value—so long as you know where to look.
Squeezed between the mountains of Spain and France like a tempting pastry filling, micronation Andorra's 85,000 residents enjoy posh shops, tax-free living and a glitter-frosted ski scene framed by the picture-perfect Pyrenees. Winning independence in 1993, the cozy principality is heavily Catalan, with French and Spanish widely spoken—which means cultural immersion (and great grub) for fleece-clad visitors.
But before lapping escudella soup in a chat-warmed streetside café, you'll need to plan your passage without eclipsing your wine budget. Lacking its own airport, there are seven in France and Spain within 250 km of Andorra, most with good bus connections. From Toronto, Barcelona's El Prat provides the best value access with one-stop early December flights on American Airlines starting at $970 return (taxes included) on www.kayak.com. Similar Air Canada services start at $1,200. The airline's Twitter feed (@ACwebsaver) offers additional sales and discounts, but prices rise sharply after mid-December.
From El Prat, popular Novatel minibuses to capital Andorra la Vella take three hours (www.andorrabybus.com; $70 return). Renting a car instead may seem tempting, but driving—especially parking—in the town is as much fun as a poke in the eye with a sharp ski. Alternatively, stay in Barcelona for most of your vacation and take a long weekend jaunt to the slopes—Direct Bus services from the city centre to Andorra la Vella cost $60 return.
Andorra's mountain-framed, small-town capital is best navigated on foot: walking from one end to the other takes less than an hour. Aim for a sleepover in the quaint old southern section near the 11th-century Església de Sant Esteve and you'll soon be wandering antique streets, snapping photos and nipping into enticing stores. Sans sales tax, shopping is a popular pastime, with jewellery a major lure for bling-loving visitors.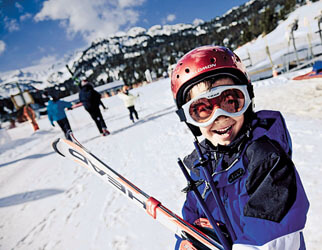 Shop around for your accommodation. Rates, usually including breakfast, are attractive during early December's ski season opening. There are budget-hugging deals at well-located mid-rangers Hotel Acta Florida (doubles from $70), Husa Centric ($100) and the old-school Hotel Pyrenees ($80). For added class—plus sterling mountain views—pony up for the Andorra Park Hotel ($200), where the sauna is an addition that makes ski bruises worthwhile.
Each hotel offers easy slope access via shuttles or proximity to local snowbus stops. Among Andorra's three ski areas, the largest is 67-lift Grandvalira, six km from town. One-day adult ski passes start at $51, but why not have a lie-in with a cheaper half-day pass (access from 1 p.m.) for $39? Travelling families should hit Naturlandia snow park: along with scenic cross-country terrain, its snowshoeing, ice rinks and rides—including a toboggan-style roller coaster—effortlessly pry kids from their digital devices.
All this activity is a licence to gorge back in town. Budget-wise, fuel up on good-value tapas at rustic-look Papanico or dine higher up the pecking order at Plat'in, a side street find with reasonably priced prix-fixe menus. For dinner, La Borda Pairal 1630 is a centuries-old beam-ceilinged farmhouse that treats carnivores like kings—wash down your suckling pig with a bottle from the superb wine cellar.
But the culinary star is charming El Crostó. Book ahead for a sought-after table at this romantic little nook where the welcoming owner is the menu: he'll tell you what's being prepared and brings out the dishes when ready. After spending the evening in his warming embrace, skiing may seem like a secondary Andorran attraction.
Sample budgets for two
7 days on $4,000
Return airfare (Toronto-Barcelona): $1,940, American Airlines
Double-occupancy room for 6 nights, breakfast included: $536, Hotel Pyrenees
Food and drink: $1,300
Transport & Activities: $242 (includes $140 for two return Novatel bus tickets to Andorra la Vella, and $102 for two Grandvalira ski lift passes)
7 days on $5,500
Return airfare (Toronto-Barcelona): $2,400, Air Canada
Double-occupancy hotel room for 6 nights, breakfast included: $1,200, Andorra Park Hotel
Food and drink: $1,550
Transport & Activities: $416 (includes $140 for two return Novatel bus tickets to Andorra la Vella, and $276 for two three-day Grandvalira ski lift passes)
Top value Sleepovers
Andorra Park Hotel
Hotel Acta Florida
Husa Centric
Hotel Pyrenees
Top value dining
Papanico
Plat'in
LA Borda Pairal 1630
Follow British-born Vancouver travel writer John Lee on Twitter: @johnleewriter