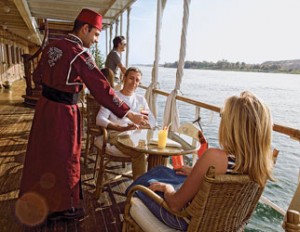 In May my hubby and I took a river cruise in Holland. Life on board the Avalon Vista ambled along at a lazy, intimate pace. We'd wake to find ourselves moored in a neat-as-a-pin Dutch town, pop off the ship for a walking tour with an expert guide and return for lunch. By afternoon, we were moored in another little town where we'd bike through the verdant, windmill-dotted countryside. Later, we'd spend a languid multi-course dinner watching life go by on the riverbank.
Small wonder the number of riverboat passengers is growing. In Canada, river cruise specialist Avalon Waterways registered 29% growth last year and christened two new ships in 2012. "Hmmm," you say. "But isn't river cruising more expensive than an ocean cruise?" The short answer: not so much.
The experience. Before comparing costs, know what you're in for. In Europe, river cruisers ply the medieval arteries—the Rhine, the Danube and the Seine—delivering you into the heart of cities and towns. (Routes exist in Asia, Egypt and the Galápagos, too.) Because you're inland, there are no waves or wild seas. By contrast, ocean liners cover more ground: if you want to visit Italy, Croatia and Turkey in a week, opt for an ocean liner.
The amenities. Don't expect casinos, zip lines, wave pools, skating rinks and rock climbing walls on a river cruiser. The boats are smaller—generally under 200 passengers compared to the 4,000-plus you'll find on an ocean liner. The Vista has a hottub and a workout room (no pool), a hair salon (no spa), and a single dining room. But it does boast luxurious details like Egyptian-cotton sheets, cushy mattress toppers, L'Occitane bath products and crisp bathrobes.
The upfront cost. Avalon Waterways' 11-day cruise from Prague to Budapest starts at $2,925 per person, based on double occupancy ($266 per day) without airfare; all rooms have a river view. By way of comparison, Princess Cruise Lines' 11-day cruise from Barcelona to Venice starts at $1,990 per person, based on double occupancy (or $180 per day) without airfare. Add $300 for a room with a view ($208 per day).
What's included. River cruises usually include airport transfers, soft drinks with lunch, wine and beer with dinner, shore excursions, WiFi access and all meals and snacks served on board. On the Vista, you can help yourself to special coffee drinks. With the exception of a few all-inclusive ocean liners, you only get breakfast, lunch and dinner, as well as coffee, tea and tap water free.
The extras. On the river, you pay extra only for drinks in the bar. In addition to alcoholic beverages, most ocean liners also charge extra for:
? Airport transfers: Cost varies