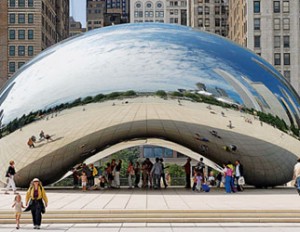 Overcompensating for its Second City moniker with those thrusting skyscrapers, Chicago doesn't seem to know that many people prefer it to New York. It's less hectic, stuffed with world-class attractions and populated by friendlier locals. But is it better than its loudmouth big brother? With our dollar riding higher than a John Hancock Center window cleaner, now's the time to find out.
Don't blow your Windy City budget before arriving. Mid-June Air Canada flights from Toronto to O'Hare currently average $550 return (taxes included) via Expedia.ca and Travelocity.ca. Non-direct fares are typically $100 less, and Air Canada's @ACwebSaver Twitter feed also provides handy late-breaking discount codes. Alternatively, Porter Airlines services closer-to-downtown Midway from Toronto City for around $475 return.
Be sure to pack some savings before heading to the airport, though. Groupon Chicago (groupon.com/chicago) hawks some attractive deals, offering savings of 50% to 90%, via its website while great trip planning tools and discounts are also available from chicagoofficeoftourism.org/chicagocoupons.
Taxis from either airport to the city's central Loop area cost up to $45, while hopping the 'L' (an elevated train) from O'Hare or Midway is just $2.25—although you may still need a cab to get to your downtown hotel. Airport Express minibus shuttles are also available (online booking advised) but with one-way fares up to $29 they're only recommended for solo travellers.
Any savings can easily be obliterated by Chicago's pricey hotels, which are aimed at business travellers. It's easy to drop $300—plus $40 for overnight parking—on even bland Chi-Town accommodation. Peruse Hotels.ca and Priceline.ca for near-Loop deals where you'll be close to attractions, Magnificent Mile shopping and 'L' stations.
Consider the bargain Chicago Getaway Hostel (from $60), with its private rooms and free breakfast, or more salubrious mid-rangers like the Gold Coast Guest House ($129) or the small-roomed but comfortable Inn of Chicago ($157). At the boutique end, funky Amalfi Hotel Chicago ($229) and stylish Hotel Felix ($209) are recommended.
Once unpacked, get your bearings. Reserve ahead for free tours via chicagogreeter.com or download gratis iPod strolls covering movie locations (onscreenillinois.com) or blues music hot spots (downloadchicagotours.com). Be sure to include a boat tour from the Chicago Architecture Foundation—save up to $8 on tickets via their website (architecture.org). And if you fancy the views from the 343-m John Hancock Center, avoid the Observatory's $15 admission and ride two floors higher to the bar. For a one-drink minimum (around $10), you'll have seating, a libation and camera-hugging panoramas.
Major Chicago museums recently restricted free-entry days to Illinois residents, so consider a City Pass (five attractions/nine days/$84) or a Go Chicago Card (26 attractions from $72) for must-sees like the Art Institute of Chicago and Field Museum of Natural History. Or stick to permanent freebies like Lincoln Park Zoo and the National Museum of Mexican Art.
If a Cubs game at Wrigley Field is your idea of culture, the stadium releases $15 standing-room tickets two hours before most games. Follow it with some free laughs: the legendary Second City comedy troupe routinely stages gratis late-night improv shows. With your savings, you might want to splurge on a Flintstones-sized T-bone at North America's original Morton's Steakhouse. Or just head to the bar—cheaper than the main restaurant—for a $17 prime burger and fries.
Since this is America's celebrated hotdog capital, consider a tube steak alternative at Hot Doug's or Portillo's. If Chicago-style deep-dish pizza is more your style, try hot spots like Lou Malnati's or Uno Chicago Grill. But when it's time for views and fine dining, head for Trump Tower's Sixteen where the lunchtime $32 prix fixe menu is a taste of the high life without the top-floor price tag.
Chicago For Less: Two sample budgets for two
7 days for $3,000
Return airfare (Toronto City- CHICAGO Midway): $950 (flyporter.com)
Double-occupancy private hostel room for 6 nights, Breakfast included, shared bathroom: $610 (getawayhostel.com)
Food & drink: $1,200
Attractions & Transport: $92 (for two seven-day transit Visitor Passes and two Wrigley Field standing room tickets)
7 days for $4,000
Return airfare (Toronto Pearson-Chicago O'Hare): $1,100 (aircanada.com)
Double-occupancy room for 6 nights: $1,292 (hotelfelixchicago.com)
Food & drink: $1,300
Attractions & Transport: $318 (includes $90 for airport taxi transfers, $168 for two City Passes and $60 for two Chicago Architecture Foundation boat tours)
Top value sleepovers
Chicago Getaway Hostel (getawayhostel.com)
Gold Coast Guest House (bbchicago.com)
Amalfi Hotel Chicago (amalfihotelchicago.com)
Inn of Chicago (innofchicago.com)
Top value dining
Uno Chicago Grill (?unos.com)
Hot Doug's (hotdougs.com)
Sixteen (trumphotelcollection.com)