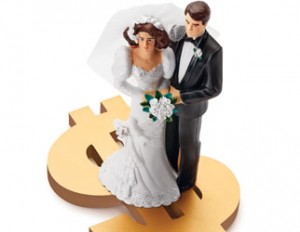 When, in my long ago youth, I turned down a second date with a frog-faced but wealthy suitor, my mom trotted out the following old saw: "Marry for love, but love where the money is." Of course, she didn't follow her own advice by snapping up a wealthy mate, and neither did I. But if you're still in the market for a partner, you might be wise to look for one with a sizeable bank account. Sure, gold diggers of either sex are usually regarded with contempt, but is it really so noble to scrimp and save to pay off the house and make the annual RRSP contribution? Case made. Here's how to increase your odds of falling for someone in a lofty tax bracket.
Make sure that you have something to offer
Whether you're male or female, there ain't no cure for dumb. "Education makes you think of the world in a different way, as does money," contends Marcus Frind, founder of the dating site PlentyOfFish.com. His site won't match you with a millionaire unless you make over $50,000 or have a post-secondary education. So if you have your heart set on a high roller, make sure you're educated and have a decent career of your own.
Opt for a swishy 'hood
Ginie Sayles, author of Rich Sex: The Sexual Dynamics of Money, advises living no further than 16 blocks from a wealthy area, even if that means coping with a garret sans air conditioning. "When you go to a Starbucks, it may as well be in the most exclusive neighbourhood," she says. "Your daily life situations are the best ways to meet rich mates." Can't afford to live in an upscale 'hood? At least jog or walk your dog there. Apart from offering opportunities to meet wealthy mates, says Sayles, you'll get a sense of what places, trends and styles are hot with the moneyed classes. "You will absorb much of the value system of the rich just by living among them."
Hang with the well-heeled

Charity events can be an excellent place to spot wealthy prospects, suggests Sayles, as can upscale bars and health clubs with affl uent members. Note that the owner of the Dallas Mavericks, Mark Cuban, met his wife Tiffany Stewart in a gym, and Sophie Rhys-Jones met Prince Edward at a charity tennis match she organized.
Pick a profession with upside potential
Melinda Gates met hubby Bill on the job and bestselling author John Irving's wife, Janet Turnbull, was his Canadian publisher. According to Sayles, "working for or with the rich is the oldest method of sinking into their world." Good bets for professions include careers in finance, technology and the media (because you can interview potential prospects). Sayles became a stockbroker, dating many wealthy men before meeting her Texas oilman husband through a friend. "The slogan of my seminars and books is that sex, love, and money are the dynamics of any marriage, rich or poor," she says. "And the rich will marry someone. Why shouldn't it be you?"