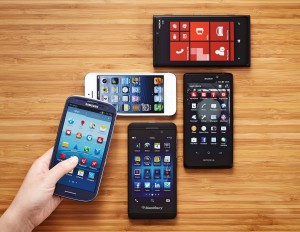 Smartphone manufacturers have engaged in an all-out battle to win customers. The latest devices feature the longest list of features and functions ever presented in handheld computers.
Nearly all the frontrunners now have large, bright, high-resolution screens. They also sport chipsets capable of running complicated software like media players and immersive games, and feature multiple connectivity options like Wi-Fi, Bluetooth and LTE.
The fight for consumers' hearts and dollars involves not only industry heavyweights Apple and Samsung, but also companies that market-watchers once placed far behind those two juggernauts: Canada's own BlackBerry (the company previously known as RIM) and Nokia.
Which is the best of the best? We considered five options: Apple's iPhone 5, Samsung's Galaxy S3, the BlackBerry Z10, the Nokia Lumia 920 and the Sony Xperia T. All prices we list are based on signing up for a three-year plan (or no term). You may be surprised to learn which of these worthy contenders deserves to be on top of consumers' smartphone shopping lists.
Samsung Galaxy S3 (16GB)| $50 ($650 no term)
BEST DEAL! It may be long in the tooth and due for replacement in late April (see "Samsung Galaxy S4" to the right), but the venerable S3 is still superb. Experts agree its performance is on par with—or above—the iPhone 5's, and the S3's price is half the cost with a plan. In fact, it won the best smartphone award at the 2013 Mobile World Congress. Why? The S3 runs Google's Android operating system, which features nearly 700,000 apps; the chipset can keep up with the most system-intensive software; its screen (at 4.8 inches, the largest in this group) wins raves for vivid colours and sharp images; and its on-board media management capabilities are truly impressive. Drawbacks are few: voice-recognition isn't as intuitive as Siri, and some users find it too large to grip comfortably. First place.
Apple iPhone 5 (16GB)| $100 ($700 no term)
The latest iPhone boasts almost every smartphone must-have: excellent voice-recognition software (Siri), video calling (FaceTime), online media storage (iCloud) and access to nearly 700,000 apps, all while running the latest version of Apple's iOS operating system. It's the lightest smartphone on the market (112 grams), so it's ultra portable. But the device isn't perfect. It has a new connector, which means people with older iPhone accessories will have to buy new ones or invest in an adapter—and not all features work with the adapter. It's also one of the most expensive contenders. The iPhone may be iconic, but it's no bargain. Second place.
Sony Xperia T (16GB)| $0.01 ($550 no term)
Agent 007 carries an Xperia T in Skyfall, so for James Bond fans this may be the one and only option. It even has Bond-themed ringtones and email alerts. Other features include a top-notch music player, and easy access to useful widgets like a calculator and voice recorder. But it's relatively heavy at 148 grams and despite sporting a 13-megapixel camera—well above the 8-MP cameras on all the other contenders—images aren't that much better. The chipset isn't the fastest either. Still, this is an Android device, which means users enjoy an app-rich playground. As a passable performer at a low price, the Xperia T remains a serious contender. Third place.
BlackBerry Z10 (16GB)| $150 ($600 no term)
After years of steadily losing market share, BlackBerry is back with a strong product. The Z10 offers video chat, an easy-to-use virtual keyboard and excellent photo-editing capabilities. The Peek feature makes it easy to check incoming messages. The Balance function separates personal and business information, so the Z10 should appeal to people who need to meet mobile-security requirements for work. The voice-recognition capability is no Siri, though, and the list of apps is extremely short compared with those available to Apple, Sony and Samsung users. In this contest, apps are everything. The pricey BlackBerry simply isn't there yet. Fourth place… for now.