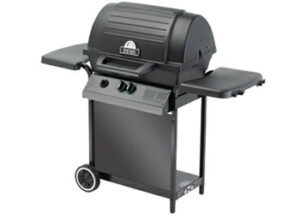 Now that summer is in full swing, many of us are cooking outdoors—sometimes on aging, flame-throwing, propane-spewing relics that may have once been state-of-the-art barbecues. Time for an upgrade? The options can be mind-boggling.
Top-line grills can fetch $3,000 or more, but you don't have to break the bank for good quality. Many manufacturers offer barbecues for $500 or less, and while they may not have all of the features you'll find on more expensive models, they generally sport porcelain-coated grates (to withstand high temperatures for years) and electronic ignitions.
Barbecue aficionados know that a higher BTU count in the burners will net you higher temperatures in a shorter time, and of course, the larger the primary grilling surface the more burgers you'll be able to cook at once. But those aren't the only variables we consider with these five modestly priced models.
Broil Mate 165154 ($200)
With just two burners and a 400-sq-in. primary cooking surface, the Broil Mate is one of the smallest grills we looked at, but it punches above its weight in quality and performance. Users praise this product for top-notch construction, and for providing even heat across its "Dual H" 44,000-BTU burner system. No frills like side burners or stainless steel surfaces here, but the $200 price tag is hard to beat, and the limited five-year warranty bests some of the competitors.
Char-Broil Gourmet TRU-Infrared 3-Burner T-36D ($480)
By offering a lifetime warranty, Char-Broil is certainly confident that this grill will last. Infrared cooking results in juicier steaks, prevents flare-ups and uses less fuel than conventional grilling systems, the company says. Users say it heats up quickly and evenly, and it has a 13,000-BTU side burner to supplement the 500-sq-in. primary cooking area. A wood chip opening makes it easy to add extra flavouring to your masterpieces. But at $480, it's no bargain in this comparison.
Coleman Even Heat 3-Burner ($500)
The 680-sq-in. grilling area gives this Coleman model an edge in the size department. The manufacturer claims the "Quick Clean" grease management system simplifies cleanup by channeling grease to a tray. It has a side burner, and it's the only model in our survey with a fuel gauge. But reviews are mixed, with some people saying the 3-Burner heats up quickly and evenly, and others saying it's relatively slow to reach cooking temperatures. Some complain about build quality as well.
Master Chef S482 ($250)
Big grill, small price—what could possibly go wrong? On paper the Master Chef is a champ, offering a 48,000-BTU, 480-sq-in. primary grilling surface and four burners for enhanced heat control, all for the second-lowest price in this barbecue tête-à-tête. Buyers love the price, but some say the construction isn't up to snuff, the heat comes on unevenly, and it's super slow to reach high temperatures. The limited one-year warranty—the shortest in the group—also doesn't inspire confidence.
Weber Spirit E-210 ($500)
Weber calls this model "basic but far from boring." It's small (350-sq-in. primary cooking area, a 26,000-BTU burner system), but that also means that it's compact, making it ideal for small decks and patios. Users say the Spirit E-210 can be counted on for even heat and excellent build quality—better than some other bigger, less-expensive products. Weber's customer support comes in for praise as well. With a 25-year warranty on the hood and a 10-year warranty on the burner tubes, the company stands behind its products. But with a price tag of $500, it's one of the two most expensive barbecues on our list.