There was a time when equipping your living room for visual entertainment was an easy task. All you needed was a TV and a VCR or, later, a DVD player.
Today, each component of that basic set-up is more complicated and varied. Different technologies and capabilities exist for virtually every niche desire and budget, which can make outfitting a home entertainment system a daunting experience.
At the very least, consumers these days need to know more about what they want and need and especially what they're looking to spend before heading down to the retailer's showroom.
4K vs. HD TVs
With the television almost always at the centre of the living room, the question most buyers inevitably face now is whether or not to go with 4K. Referring to the screen's 4,000-or-so dots of horizontal resolution, 4K represents the next-generation of TV technology. Also referred to as ultra high-definition, it delivers roughly four times the resolution of regular HD.
4K TVs have been on the market for a few years, but they have mostly been aimed at early-adopter videophiles, who marvelled at their sharper pictures. The sets have also been priced at a premium, costing hundreds or thousands of dollars more than regular HD flat panels.
4K has also been kept from the mainstream by its dearth of content. Broadcasters aren't yet airing super high-resolution content and you can't yet buy ultra HD movies on disc. Netflix has so far been the only real source of 4K TV shows and movies, but with only a handful of titles so far.
Things are changing quickly, however. Prices have come down dramatically over the past year, to the point where 4K TVs from  name-brand manufacturers can now be had for less than $1,000. Ultra HD Blu-ray players are also coming later this year and Netflix is ramping up its 4K library.
Sales are expected to explode as a result, growing 147% in 2015 to 30 million units sold globally, according to tracking firm Futuresource Consulting. The shift to 4K looks like it could be faster than the move to HD from standard definition a decade ago.
"I see 4K catching up faster than those other formats," says Elvis Martin, a consumer electronics designer at Brentview Electronics in Toronto.
Beyond TVs: Building out your home theatre »
It's not just the price and content availability that's making 4K desirable now. The TVs are also improving in other important areas, such as viewing angles and contrast ratios.
Chris Heinonen, a writer for The Wirecutter gadget review site and editor of Reference Home Theater, says many HD TVs have been offering better picture quality than their 4K brethren because they were focusing more on those issues.
"There are other things that make up the image. Those things are more apparent to the eye," he says.
4K TVs have now caught up with better contrasts and viewing angles, which is why Heinonen is now recommending them.
Another choice consumers are currently facing is curves. Most major manufacturers are selling slightly concave TVs that they say have more immersive pictures than regular flat screens.
But at this point this is really only true for screens 70 inches in size and up.
"If you're only doing it in a 55-inch, you don't feel as immersed in the picture," says Steven deWeerd, owner of Brentview Electronics.
Curved TVs also require slightly more space and therefore might not be suitable for tiny condos.
TV showrooms also play host to a veritable alphabet soup of picture technologies, such as OLED (organic light-emitting diodes) and HDR (high-dynamic range). Both of these emerging technologies promise dramatic improvements in picture quality, but still at the higher-end of the market in terms of price.
HDR, which boasts brighter whites, will be ready for a more mainstream audience in two to three years, Heinonen says. OLED sets, meanwhile, are only being produced by LG for now, which means the company has a monopoly on what many audio-video experts believe is the best picture technology currently available.
Of course, home theatre systems are only as good as the content they play, and there are many options for piping video into them. Existing Blu-ray players are like toasters these days and can be had cheaply. Their 4K counterparts, however, are expected to be pricey when they hit the market later this year, with cost expectations ranging as high as $500.
Streaming from your new TV
Just about every modern TV is "smart" with a built-in Wi-Fi connection, meaning it can directly stream services such as Netflix or YouTube without the need for an external device. However, the interfaces on these televisions are usually not as clean or simple to use as third-party gadgets such as Roku, Chromecast or Apple TV.
Of these, experts generally like the Roku 3, which sells for $109, because it offers a wide selection of apps. Roku is also a neutral set-top box maker that doesn't sell its own services, so it doesn't prioritize some apps over others like Apple does with iTunes on its Apple TV.
iPhone and iPad users, however, may want to have a look at the new Apple TV launching in October. Canadian pricing hasn't yet been announced, but the device is expected to sell for under $200. The new box features a remote control with voice control and gesture-sensing so, like the Roku 3, it will be able to play casual games.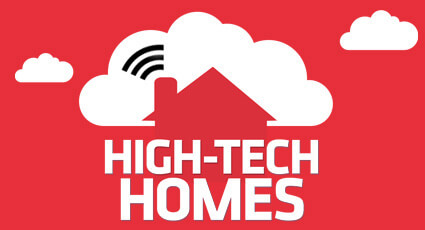 Video Series
The Connected Bedroom »
The Connected Bathroom »
The Connected Kitchen »
The Connected Home Theatre »
The Connected Outdoors »