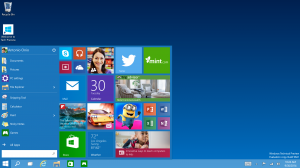 The new Windows 10 operating system is available for free for select Windows users starting today, July 29.
If you have Windows 7 or 8.1, you can download the new operating system for free. The offer is valid for the next 12 months and the OS won't expire.
Windows Phone 8.1 users will also be eligible for the Windows 10 Mobile upgrade, but its availability could depend on the specifications of your device.
Microsoft has confirmed that this is a full version of the software, not just a trial. If after the year is up, you still haven't upgraded, Windows 10 will cost you.
Review: What to expect if you upgrade to Windows 10 »
There are some exceptions as to who is eligible for the free upgrade. Windows 7 Enterprise, Windows 8/8.1 Enterprise, both designed for organizations rather than individual users, and Windows RT/RT 8.1, its latest tablet software, are excluded from the free upgrade. If you have Windows XP or Windows Vista, you're also out of luck.
Generally, Microsoft has never offered a free upgrade to a new operating system across all of its platforms. It was only last year that Microsoft made Windows 8.1 available for free for any phones and tablets with screens smaller than nine inches.
Tech blogs have reported that a popular online retailer, newegg.com, has revealed the potential prices for the software could be anywhere from $110 to $150, but this hasn't been confirmed by Microsoft.
Tech trend expert Adrian Bulzacki says that the new "unifying" operating system could potentially be run on any platform. Apple products like the iPad, iPhone and iMac all run on separate operating systems, meaning they don't integrate fully. Windows 10's ability to run on computers, phones and tablets means that it could be the next big thing.
"In theory, every Android device that ever existed could convert to Windows 10," he says.
[An earlier version of this story was first published on June 1, 2015.]