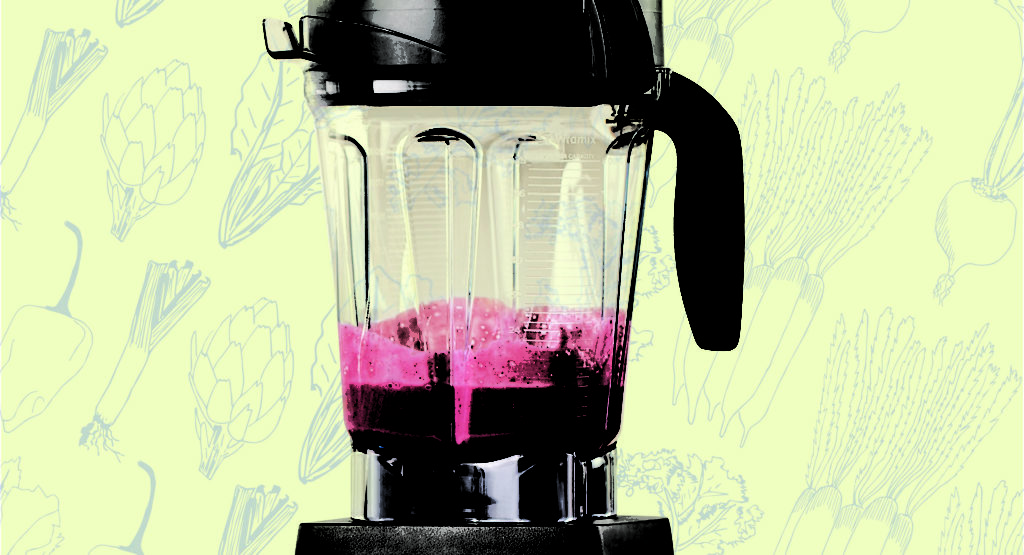 Blender technology has come a long way in a short time. From weak machines that could barely chop ice cubes to massive beasts that can disintegrate rocks in seconds—or, more practically, puree and heat soups at the same time—today's blenders are considerably more powerful and useful than their ancestors. Indeed, with several horsepower packed into their engines, these loud gadgets can sound like jet planes coming in for a landing in your kitchen. We tried four of the top brands on the market and here's how they rate.
BEST OVERALL
VITAMIX
750
$769 | Vitamix.ca
Hard-core foodies swear by the Vitamix and it's easy to see why. The blender packs a good punch with a 2.2-hp motor, which isn't as powerful as the Blendtec but it's no slouch either. Two manual switches that control five settings—smoothies, soups, desserts, puree, cleaning—and a variable speed dial are also great for users who prefer non-digital interfaces. It's an immensely sturdy machine and gets soups nearly piping hot in six minutes. The Vitamix also comes with a huge 127-page recipe book and a DVD that explains some blending techniques. The only downside is its rather steep price.
Most powerful
Blendtec 725
$499 | Blendtec.com
Known for its ability to chop iPhones to bits, the Blendtec does a great job of grinding up any food items placed into it. It's the most powerful of the blenders we tested, with a 3.4-hp motor, while its two-pronged blade is safer to handle than the sharp edges of its rivals. It also has the quickest soup cycle at 90 seconds, but the soup requires a bit of extra heating time in a microwave to get it piping hot.
Best Price
Oster Versa 1400
$249 | Theshoppingchannel.com
With a two-hp motor, the Oster Versa isn't as formidable as its rivals but it still gets the job done with its standard smoothie, dip and soup settings, which heats up mixtures nicely in six minutes. It is, however, the biggest of the tested blenders, so you'll need extra counter space. It's main selling point? It's super low price.
Best controls
BREVILLE boss super blender
$696 | Theshoppingchannel.com
While the Blendtec's controls are a digital touch pad and the Vitamix has analog switches and dials, the Boss finds a comfortable medium between new and old schools. A digital display counts down how much time is left in a blend cycle while a knob dial adds more tactile responsiveness to the job. The Boss has a two-hp motor, ably heats soups in six minutes and includes a recipe book.