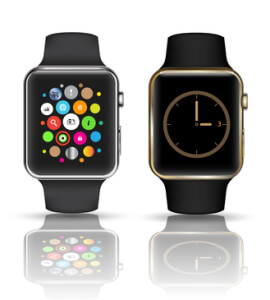 My friend the inimitable Norman Rothery posted a blog Thursday, Apple Watch delays Findependence, that was inspired by a Twitter exchange last weekend.
On Twitter, I had publicly disclosed that I had pre-ordered the new Apple Watch, even though delivery is several weeks away. Norm made a query about the possible impact on Findependence, then followed up in his blog by suggesting that young people buying these gadgets might seriously be delaying the arrival of their Findependence Day (that is, the day they reach financial independence) by 17 days for the cheapest model and for as much as two years for the expensive glitzy gold model.
I have no great problem with the blog, a typically contrarian piece by a great value investor: it's all grist for the mill, as they say and I'm happy to see an influential writer like Norm use the term Findependence. Even so, let me assure readers out there who may have fancied me to be a frugal kind of guy that I quite definitely did not purchase the expensive gold-banded version. For the curious, I picked one of the simple entry-level models with a black band and the smaller watch-face, roughly the model illustrated above.
I entirely agree with Norm that the first generation of technology tends to have kinks and it's never a bad idea to wait for a few releases and let the pioneers suffer the slings and arrows of outrageous technology fortune.
Three reasons why I pre-ordered
That said, I currently wear no watch (that is to say, timepiece) on my left wrist (or right wrist, for that matter!). Second, I already have an iPhone that's about a year old so am well entrenched in the Apple ecosystem. And third, I value the health-monitoring benefits of the watch. I try to exercise most days and believe it would be useful to count steps, monitor heart rates and all the rest of it.
And yes, over the years, I have been a bit of a technophile, although nothing like the 1980s when I was one of the early high-tech reporters at the Globe & Mail. While I may not have articulated it well on Twitter, my feeling is that the potential health benefits of the Apple Watch alone are worth the retail price of several hundred dollars.
How can you price health and a longer life expectancy?