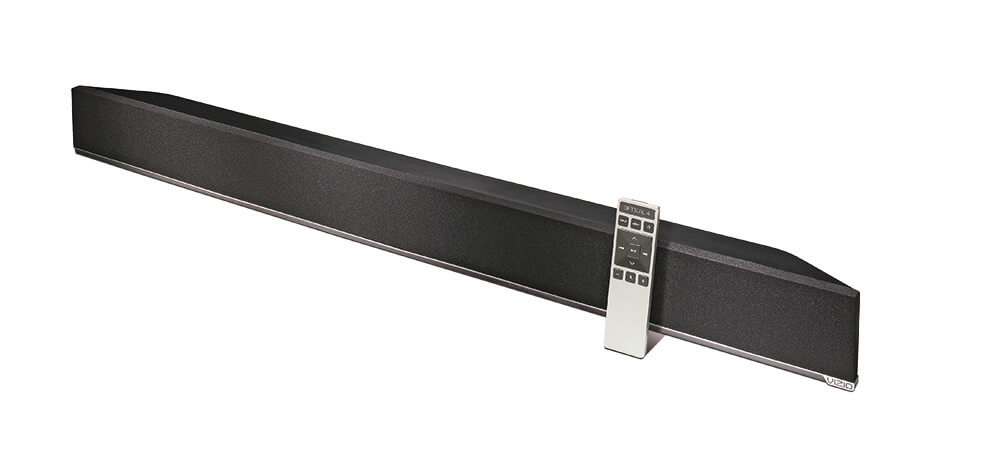 Picture quality on televisions is continually improving, but what about the sound? In their rush to provide sharper images and truer colours, manufacturers have typically cut corners on audio. The result is TVs that look great but sound tinny, muddy, too quiet, or all of the above. One solution to the problem is a home-theatre system. For those who don't want the big expense or the hassle of stringing wires to various speakers around the living room, another option is a sound bar that sits in front of the TV or just below it. Here are four of the best we've tested.
Best Overall: Vizio S4251w $349 | bestbuy.ca
Let's face it: if you've already shelled out big bucks for a TV, you don't want to spend a similar amount on a sound bar. That's the logic behind Vizio's offering, which packs in a lot for just $349. Aside from the bar itself, you also get a sub-woofer and two satellite speakers, which connect wirelessly to the main unit. It's as close as it gets to surround sound without going for a full-blown home-theatre system. Other devices may deliver sharper audio, but Vizio's bar is the "good-enough" choice for the non-audiophile mainstream.
Best Mid-Range: Samsung HW-F850 $899 | bestbuy.ca
Samsung's entry has the top-notch sound and most of the features of more expensive rivals. The device sports a vacuum tube amplifier that adds warmth to audio while a wireless sub-woofer serves up the low end—and it has Bluetooth and NFC connectivity. Best of all, it functions when lying flat in front of the TV or vertically when wall-mounted beneath it. The downside? It has only a single HDMI input so you'll have to choose which component gets it if you have more than one.
Best High-End: Sony HT-ST7 $1,399 | sony.ca
Sony's sound bar is expensive, but it offers a lot to justify the cost. With nine speakers plus the separate wireless sub-woofer, it serves up a wall of clear audio. It also has three HDMI input ports for connecting various components. That's important because HDMI delivers better sound than the optical cables used by the Vizio and Sonos units. Sony's bar can also stream music from phones and other devices via Bluetooth or NFC. And it looks sleek, with a removable grill and angled corners.
Most Versatile: Sonos Playbar $749 | futureshop.ca
The Playbar works like other Sonos products in that it wirelessly connects to a hub, which in turn plugs into your Wi-Fi router. From there, it can be controlled via smartphone app and linked to any other Sonos speaker in the house. It does a good job as TV sound bar, and you can add a sub-woofer if you want (sold separately for $749). It doesn't work with some TV remote controls, so you may need a universal remote if you don't want to use the app.