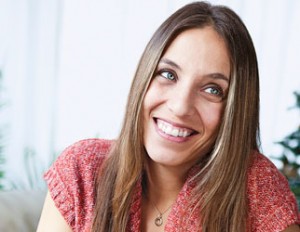 I've always been a writer, but until quite recently, I've never been paid for it. That means that in order to live and eat and wear clothes, I've always had to have a job.
I can be a good employee, except for the fact that I can feel distracted and resentful at work because I would rather be writing. So I ask for a lot of time off. And flexible hours. I'll admit it: the best way to keep me in the workplace is to make it feel as though I don't actually work there. One of my favourite employers once described me as "the best employee I ever had who never worked."
The first time I tried to be an employee, it was at the Red Lobster in Sudbury, Ontario. I was sixteen years old. My supervisor was a feisty woman with burgundy hair and red glasses named Jeannine. I was trained thoroughly for three weeks before I was given my own tables. And there are things Jeannine taught me that I've still never forgotten: for instance, when carrying water glasses on a tray, fill them with ice so they won't spill. Also, never tuck a pepper grinder under your armpit when visiting a table.
I was good at my job, and I liked the people I worked with. I was making good money. But for some reason, I dreaded going to work. Even when I didn't have go to work until later in the afternoon, the whole day felt ruined. It was a 30-minute drive to the restaurant from my house. My stomach would sink as I put on my uniform. I'd get queasy before I left, and feel sick for the whole drive.
"It always comes down to either time or money," my mother would tell me when I complained. (She alternated between that motto and this zinger: "You can stand anything, Sarah, as long as you know it's going to end.") And she was right. When I got to work, there was no time to think about wanting to be at home watching Twin Peaks. I had to kick into gear in order to work efficiently for the seven or eight hours I was on the floor. Then it would be over, and I would say good night and drive home, my hair smelling like cheese buns and fried shrimp.
Every night I'd come home, kick off my grease-coated shoes, and perch on the stairs at the front entrance to count the tips that were folded in my pocket. It was often a fat wad of money—I could make about $100 a night, not bad money for a teenager—and I felt like I'd earned it. This was not a bad feeling.
So then I'd weigh it out: the long drive to Sudbury with a sick feeling in my stomach before each shift vs. the money. Scooping lobsters out of the tank with a rake and introducing them to their tables while they were still alive vs. the money. The awkwardness of telling a drunk man my father's age that he should order ginger ale instead of another glass of Piat d'Or vs. the money. I'd weigh all of the work against the stack of dollars in my hand at the end of the night. Was it worth it?
I want to be clear: it was not a terrible job. The management was fair and my co-workers were skilled and kind. It was a great job! And so was the job I had at the bakery, a couple of years later. And in all the years that followed: when I was apprentice to a chef at the country club, office manager at the event planning company, retail associate at the gift store, administrative assistant at the Liquor Control Board of Ontario head office, the Ministry of Health, the Children's Aid Society and the usability design firm. I have been fortunate to work at some wonderful organizations with some superstar supervisors.
The problem is that I'm a whiny employee. In my defence, I believe this is because writing is my real work, and I feel out of sorts when I'm not doing it. But there comes a time in every whiny employee's life when she must ask herself: why do you keep quitting these great jobs? What do you really want?
It must have been on one of those Saturday nights, sitting on my steps after my shift at Red Lobster, counting the dollars and measuring them against my experience, that I began to understand the lesson about money my mother had always been trying to teach me. It would take almost 20 years for me to fully appreciate what it meant, though, and to eventually give myself permission to live my life accordingly.
My Mother's Motto #1: It always comes down to either time or money. Sometimes, you decide that you'd rather have the time. For instance, you're going to need a lot of time if you want to write a book. But then sometimes you decide that you'd rather just have the money. And if you find yourself in that situation, dear reader, I now offer My Mother's Motto #2: Anything is okay as long as you know it will end.
Sarah Selecky's debut collection of short stories, This Cake Is for the Party, was a 2010 Giller Prize finalist. She currently lives in Toronto with her husband.