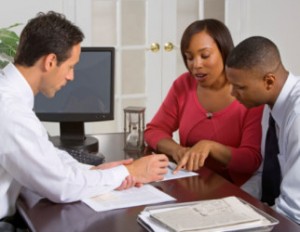 It happens to the best of us: an important bill goes missing or an investment gets ignored. Thanks to modern technology, it never has to happen again. All you need is an iPhone and  two minutes to download a personal finance application from the app store. There are plenty to choose from, but we think these six are the best.
Pennies ($2.99)
Proper money management starts with a budget. But it's easy to overspend when all your bills are jammed in your pocket. Try Pennies instead—a simple app that lets you track expenses as they happen. Purchases are sorted into categories like food, amusement and groceries, and large calculator-style buttons make entering dollar amounts a cinch. Set a budget in advance, and a handy fuel gauge icon will show you when your funds dry up.
Bloomberg (Free)
If you're an active investor, you probably spend a lot of time in front of your computer following your stocks. Now you can do it while you're on the go too. The Bloomberg app delivers the latest business news and stock prices in real time. It also lets you track bonds, currencies, commodities and futures. Financial podcasts help explain what it all means by bringing some of the world's best business minds right to your headphones. Also available for the BlackBerry.
Receipts ($4.99)
If you want your expense-tracking software to do more than simple calculations, Receipts is the app for you. It lets you track your spending on everything from dinners and gas to office supplies and software. It even lets you take photos of your receipts, which makes submitting business expenses a snap. A nifty chart helps you track the big picture, by showing exactly where your hard-earned cash is going.
Stockwatch ($2.99)
Figuring out your portfolio performance on a daily basis can be daunting—but the Stockwatch app can help. This program lets you organize your stocks and mutual funds, and it automatically calculates your daily return. You can easily add and subtract investments as you buy and sell. You'll feel like a seasoned portfolio manager with news, charts and complex technical analysis tools—such as Bollinger Bands and moving averages—all at your fingertips.
PayPal (Free)
Forget cash or credit. These days a data plan is all you need to pay the bills. With PayPal's mobile app you can send cash to your bank, shop online or send a friend that 10 bucks you owe him. Download the app, log in, transfer some funds from your bank account to your PayPal account and you're ready to go. Soon you'll be able to leave your wallet at home.
Abacus ($0.99)
When the Romans managed their finances, they turned to the abacus for their number-crunching needs. With this quirky but surprisingly fun program, you can add up expenses just like Julius Caesar did. It works exactly like an abacus—each line of oval beads represents a different unit. Slide a bead over, and the app does the calculations for you, so you don't have to use your fingers to keep track of the sum.