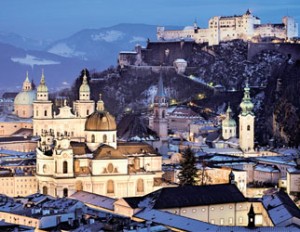 Weaving between cobbled courtyards and baroque churches in Austria's storybook alpine city, it's easy to see what inspired local lad Mozart to hit the high notes. But wintertime in Salzburg isn't just about frosted good looks. Ski the peaks glinting behind the gabled rooftops and you might also be yodelling a Sound of Music medley—especially if our exchange rate remains sweeter than a jam-packed linzer torte. At time of writing, Expedia and Travelocity were listing late-November flights from Toronto to Salzburg (typically via Frankfurt) from Air Canada and Lufthansa for as little as $1,067 return, and that's with the taxes included.
Alternatively, save more with a two-city jaunt. From $625 return, Air Transat's London-bound November service invites U.K. Christmas shopping coupled with a Salzburg side trip. Departing from Stansted airport, Ryanair flies to the UNESCO World Heritage city from $110 return. Leave excess luggage at your London hotel or at Stansted ($13.75 per day) to sidestep the airline's money-grab baggage policy.
Arriving at petite Mozart International, thrifty travellers take the Number 2 transit bus ($3) to Salzburg's main train station, then hit taxis or other buses to their accommodation. But since the airport is just four kms from the city, a $20 taxi ride direct to your hotel is probably worth the splurge—especially if you're sleeping more than a few blocks from the Altstadt (old town) area.
Basing yourself in this picture-perfect Salzach River–straddling neighbourhood is ideal if you fancy strolling medieval streets. But while accommodation prices in late November—an early start to the ski season—are inviting, December triggers swift hikes. Check www.hotels.com for deals and try favourites Hotel Elefant (doubles from $167) or Wolf-Dietrich Hotel ($183). Even better, stay at a B&B pension a short hop from the Altstadt. Recommendations include three-star Haus Reichl ($80), while charming Bloberger Hof ($100) and contemporary Hotel Rosenvilla ($175) offer heightened amenities. Buffet breakfasts are de rigueur, so stuff yourself with cheese and pastries before waddling out for the day.
Rather than losing yourself among the city's antique streets—not a bad idea on shop-lined Getreidegasse—pick up a self-guided $10 iTour handset from the Tourist Office in Mozartplatz, which is preferable to the $35 bus tour. You can also buy a Salzburg Card (24/48/72 hours from $35), which covers transit and attraction admissions, including the must-see Festung Hohensalzburg castle. Spend the money you've saved at Domplatz's twinkling Christmas market (November 17 to December 26), where a steaming bratwurst and a round or three of hot glühwein is expected.
Sober up on the slopes the next morning. Striped with accessible terrain, the Salzburgerland region is better value than alpine rivals France and Switzerland. The three-month season hits its stride by mid-December and while you can stay at nearby resorts like Filzmoos or Radstadt, many visitors remain in Salzburg, combining city attractions with days out in the mountains. Peruse the region's ski options at www.salzburgersportwelt.com.
Consider the free Flachau Snow Shuttle (www.snowshuttle.net), which picks up and returns at spots around Salzburg, giving you several hours of powder-packed action in a popular 110-run area. You can also hit the Tyrol region via the Kitzbühel Mountain Shuttle taxi (www.andis-taxi.com; $80 return), which provides up to five hours at Austria's favourite ski resort before returning you to the city for dinner.
Naturally, all that activity is a license to gorge. Salivate over wood-fired briocheknopf rolls at Stiftsbäckerei St. Peter bakery, perhaps with regional cheese and charcuterie from Grüner Markt. Or join the crowds at the Augustiner Bräerstübl beer hall for a litre-sized $5.50 pilsner plus pretzels and sausages.
If you're keen to move slightly higher up the pecking order, dive into schnitzel or dumpling-packed goulash at bistro-style Alter Fuchs or the good-value Wilder Mann tavern. But if you're craving fine dining, check out tagesmenu lunch deals at top eateries, including the excellent $25 special at Michelin-starred Restaurant Riedenburg.