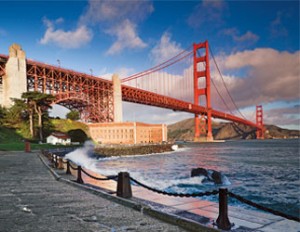 Cresting its uber-hilly streets without breaking a sweat, you can see why seductive San Francisco used to be called the Paris of the West. With its bright-painted clapboard buildings and wanderable wharfside, California's best metropolis is certainly enticing—especially with our dollar now riding higher than a rivet on the Golden Gate Bridge.
But you need to do a little homework to ensure you leave only your heart here, and not an empty wallet. At time of writing, www.expedia.ca and www.travelocity.ca were listing direct mid-September flights from Toronto to San Francisco for around $550 return (taxes included), with non-direct flights marginally cheaper.
Wait for Air Canada's fall seat sale or consider WestJet's competitive one-stop services from Toronto. Next, join Groupon for local discounts or clip the coupons from a San Francisco Entertainment Book, currently selling for US$35 at www.entertainment.com.
After your SFO arrival, avoid a $45 taxi ride by taking the 30-minute downtown-bound BART train ($7.70). Union Square (near BART's Powell Street station) is the city's accessible heart, but it's also a magnet for overpriced hotels, where it's easy to drop $300 on a humdrum sleepover—hit www.hotels.com and www.priceline.com before you arrive for possible deals. Recommendations include the Chancellor Hotel (from $169) or Golden Gate Hotel (from $156). Alternatively, small rooms combined with good value are nearby at Hotel Beresford (from $104) and Hotel Mayflower (from $114), while the gritty Tenderloin area's Phoenix Hotel (from $141) is also popular. Don't forget to add San Francisco's 14% hotel tax and $25+ accommodation parking charges—beat the latter at the 1930s Marina Motel (from $141) near Fisherman's Wharf. Its parking is free and the rooms have handy kitchens.
Luckily, cars are not required here. Get your bearings with a gratis City Guides tour then hop onboard the extensive transit system. Swap the comparatively pricey red cable cars ($5.60) for a lesser-known heritage trundle: F-line trams are historic streetcars from around the world that charge regular transit fares ($1.90). Or buy a Muni Passport ticket (1/3/7 days $13/$20/$25), covering all street transit, including cable cars.
The boardwalk-like Wharf area is a major lure, but it's also home to many poor-value tourist eateries and attractions. For every Hard Rock Cafe Gift Shop, though, there are gems like the Musée Mécanique, a menagerie of antique coin-operated dioramas. And if you must hit kitschy Pier 39, check out the free show: hundreds of sea lions lolling in the sun offshore.
The city's other recommended freebies include the fascinating San Francisco Cable Car Museum and the Wells Fargo History Museum, with its Gold Rush memorabilia. You can also hit big-ticket attractions without paying: the Museum of Modern Art (normally $17) and the de Young Museum ($9.50) provide free admission on the first Tuesday of every month. If your timing is off, consider a Go San Francisco Card attractions pass (from $52) instead.
Also make time for the Free Shakespeare in the Park festival, this year staging Cymbeline in a Presidio parkland spot throughout September. And if you crave more theatre, there's a half-price ticket booth in Union Square. Explore beer culture instead with a free Anchor Brewing tour, complete with samples. Reserve at www.anchorbrewing.com.
If you've had your fill of Fisherman's Wharf clam chowder, take your appetite back downtown. Near Union Square, Lefty O'Doul's is a cafeteria-style pub serving $7.50 breakfasts and heaping $9.50 dinners. Alternatively, try a communal perch at tiny Farm:Table for seasonal soups and sandwiches. Better still, explore adventurous street food at Fort Mason Center's Off the Grid cart market on Fridays or sample eye-popping Mexican grub at Mission district favourite La Taquería. But if you fancy a gourmet night out, French-influenced Jardinière is the way to go—especially on Mondays, when there's a bargain $43 three-course/three-wine dinner deal.