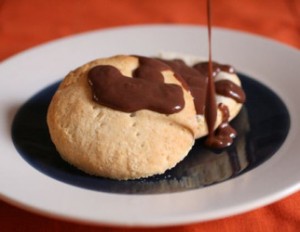 If you watched the movie Forrest Gump then you will remember the scene where Bubba lists the many delectable ways you can eat shrimp ("…pineapple shrimp, lemon shrimp, coconut shrimp, pepper shrimp, shrimp soup…"). Well, I've long had my own food fantasy — immersing myself in all the delectable ways you can eat chocolate, preferably at a resort in the rolling hills of California.
Last February my fantasy came true when I visited the Ojai Valley Inn & Spa during their annual Chocolate Month celebration. By the time it was over, I was convinced of one thing: there's nothing as decadent as taking chocolate out of the dessert course and moving it to the appetizers and mains. Who knew that chocolate paired with chili peppers could be such a mouth-watering combination?
At the celebration, guest chef Susana Trilling from Oaxaca, Mexico, put on a su­perb display of chocolate savory cooking. The Mexican chili chocolate sauce that Canadians know as mole (pronounced moh-lay) has infinite variations in her skilled hands. Trilling's meals include such unique pairings as spicy chicken and red mole tomales in banana leaves, tender grilled shrimp with chocolate marinade, succulent pan-fried scallops served on chayote purée with tamarino, guava and chocolate sauce, and expertly sautéed duck breast in achiote chocolate sauce. "You can really taste the chocolate in each dish," says Trilling. "It's wonderful."
If you still have room (and I certainly did), you can finish your meal with a slice of velvety chocolate bread pudding with prickly pear and tangerine sauce. All chocolate dishes are served with California cabernet sauvignons as well as champagne. Heavenly.
This February, Ojai's Chocolate Month will feature a dinner and dance, a candy-making demonstration and a selection of hot chocolate made by Ojai's pastry chef, Salvatore Martone. If you're interested in cooking up an all-chocolate meal of your own, you may also want to check out Trilling's cooking school in Oaxaca.