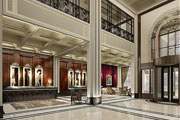 I'm not a fancy guy. But when my wife and I travel, we prefer five-star hotels. We're not rich, but you don't have to be. You just have to enjoy surprises.
Our secret is to use websites such as Hotwire and Priceline that let you set what you're willing to pay, and the star level of your lodging — but don't let you choose the exact hotel. In return, you get five-star luxury at two-star prices.
We recently returned from Athens where we reserved gorgeous rooms at the five-star Intercontinental from Hotwire for just US$99 a night. All we had to do is click over to the site, specify the geographic area where we wanted to stay, and select a minimum star rating. You then pick from a list of properties, each of which specifies a price and amenities, but doesn't include the actual name or exact location of the hotel.
My wife and I chose the lowest price and were delighted to get the Intercontinental Athenaeum Athens. We paid $30 to upgrade to a deluxe room. Had we purchased it from the hotel's website, we would have shelled out around $300 a night.
We've also saved a bundle using Priceline. Like Hotwire, this site lets you select an area and star rating, but rather than choosing an unnamed property, you simply set your price. Using the service, we were able to land a five-star hotel in Beverly Hills for only US$99 a night.