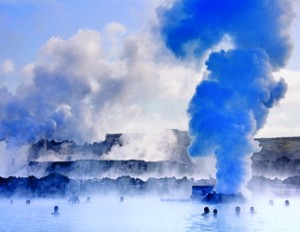 After ticking tourist-jammed Paris and London off your European to-do list, Iceland's tidy, village-like capital is a breath of Nordic fresh air. But while Reykjavik's exotic otherness can hook you like a herring, it's the intriguing attractions, close-knit community and mesmerizing lava-formed landscapes that'll have you returning faster than a jet-propelled puffin.
Don't wait too long to hit Björk's backyard, though: Iceland's 2008 financial meltdown means our dollar now buys 40% more krona than it did five years ago. But while prices on the ground still echo larger European cities, there are ways to enjoy this land of northern lights and hot pools without leaving your wallet as empty as an extinct volcano.
First up: flights. Five hours from Toronto, Icelandair's seasonal direct service starts in late March with prices on Expedia.ca, Travelocity.ca and the airline's own website—which usually has the best fares—from $600 return (taxes included). Or consider a two-city vacation: book via Icelandair.com to another European spot—Amsterdam, for example—and you can include a stopover of up to seven days in Reykjavik for no extra ticket cost. And if you're already in Europe, consider a weekend side trip on budget airline easyJet's new service from London Luton (from $150 return).
On arrival, follow the main corridor through Keflavik International and you'll soon be blinking outside at a sparse, lava-cragged moonscape. But rather than paying $80 for a city-bound taxi, hop the 45-minute Flybus ($28 return) to Reykjavik's central bus station—it's $8 more for return transfers direct to your hotel. Book ahead at Flybus.is or buy at the desk near the airport exit.
In the city, save some legwork—and extortionate rental car fees—by staying near the gable-roofed old town, within sight of the hulking Hallgrimskirkja church. KEX Hostel (doubles from $65) and Downtown Hostel (from $46) have private rooms for those on a budget. Mid-rangers include the simple Askot B&B (from $72) and friendly Guesthouse Sunna (from $71). Alternatively, consider contemporary boutique Hotel Pingholt (from $163) or the kitchen-equipped Forsaela Guesthouse cottage (from $290). Summer-season rates kick in at most sleepovers on May 1.
Once you've unpacked, hit the streets with a free walking tour from the main Tourist Information Centre, running 1 p.m. daily May to September and Fridays-only the rest of the year. A $10 gratuity is appropriate—the only time you'll have to consider one in a country where tips are included on bills. Reykjavik Bike Tours (Icelandbike.com) offers popular guided trundles for $36.
But if you really want to rub shoulders with the locals—who often speak unnervingly good English—click some free invitations at Inspiredbyiceland.com. Even better, dip into a geothermic pool. The spectacular, mountain-ringed Blue Lagoon (entry $39) lures visitors, but locals prefer functional facilities in the city centre, including the ever-popular Laugardalslaug complex and its four "hot pots." Admission is about $4 or free with a visitor Welcome Card (24/48/72 hours, $19/$26/$32), available from the Tourist Information Centre. It also includes entry to the excellent Culture House and National Museum, but you'll have to pony up $8 for Reykjavik's infamous Phallological Museum.
If you're now hungrier than a rampaging Viking, it's time to start scoffing. Traditional Icelandic dishes like rotten shark might not appeal, but don't miss the seafood here. Hunt down ultra-fresh sushi at Mulakaffi, or dive into local food tasting menus at bistro-chic Fish Market or Grill Market. And when it's time for a culinary adventure, try tucking into gamey puffin or low-fat reindeer at 3 Frakkar or Laekjarbrekka.
Don't forget that lunch at many restaurants is about half the price of dinner. Make that your main meal of the day and you could save enough for a memorable evening soak in the Blue Lagoon.
British-born Vancouverite John Lee is a regular Europe visitor. Follow his travels at www.johnleewriter.com.
REYKJAVIK FOR LESS: Two sample budgets for two
7 days for $3,000
Return airfare (Toronto-Reykjavik): $1,180 (Icelandair, via www.icelandair.com)
Double-occupancy hotel room for 6 nights, breakfast included, shared bathroom: $474 (KEX Hostel, via www.kexhostel.is)
Food & drink: $1,250
Transport: $56 (for two return Flybus airport transfers)
7 days for $4,500
Return airfare (Toronto-Reykjavik): $1,228 (Icelandair, via www.travelocity.ca)
double room for 6 nights: $927 (Hotel Pingholt, via www.centerhotels.com)
Food & drink: $2,000
Attractions & Transport: $208 ($72 for two return Flybus airport transfers, with hotel drop; $72 for two bike tours; $64 for two 72-hour Welcome Cards)
Top value dining
Mulakaffi (www.mulakaffi.is)
Fish Market (www.fiskmarkadurinn.is)
3 Frakkar (www.3frakkar.com)
Top value sleepovers
KEX Hostel (www.kexhostel.is)
Downtown hostel (www.hostel.is)
Askot B&B (www.askot.is)
Guesthouse Sunna (www.sunna.is)