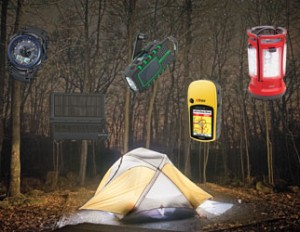 Outdoor adventuring isn't what it used to be. The days of flashlights and matchsticks have given way to LED lanterns and portable chargers. Whereas "getting away from it all" once meant avoiding technology to relax, people in this era of hyperconnectivity sometimes feel more stressed out if they don't have their smartphones with them, even in the wilderness.
Fortunately, the latest camp and hiking gadgetry helps trekkers link with the urban world—and devices such as solar-powered radios, altitude-minding wristwatches and handheld GPS units also enhance the outdoor experience, providing access to information at the push of a button.
We looked into five outdoor technology categories to find the best radio, charging system, GPS, lantern and watch, considering features, ease of use and price. While our top picks aren't always the cheapest, they all offer the best balance between functionality and cost.
Radio: Eton Scorpion NSP 100 | $50
The Scorpion provides AM, FM and seven Weatheradio Canada broadcasts providing meteorological reports and alerts. It features a hand-crank generator to charge the battery, and a solar charger as well. You can even use this splash-proof device to charge items such as iPods and mobile phones. It has a built-in flashlight, digital clock, bottle opener, and an auxiliary-in jack for MP3 players so you can listen to your own music. It costs less than competing rugged radio systems, and since it weighs just 250 g it's ideal for people looking to travel light.
GPS: Garmin eTrex Venture HC | $140
Handheld global positioning systems are commonly in the $500 range, making the high-end eTrex Venture HC a true bargain at a fraction of that cost. Equipped with a 24 MB internal memory and a detailed base map, its high-sensitivity receiver presents accurate location information, even on mountains and in valleys. The 256-colour screen remains clear in full sunlight, and it runs for 14 hours of continuous use. The waterproof device also has a built-in hunting and fishing calendar to keep you on the right side of the bylaws. And at 156 g, the HC won't weigh you down.
Watch: Casio Pro Trek PRW5000 | $395
More than a mere watch, the PRW5000 is a veritable information station. It cleverly incorporates sensors and displays for temperature, direction, elevation and barometric pressure. The second hand, for instance, not only tracks the time but also operates as a needle pointing north when the compass is engaged, and illustrates elevation (between –700 and 10,000 m) when the altimeter is turned on. The device receives calibration radio signals to ensure the time is accurate, and the battery is solar-rechargeable. It also scores points for style.
Solar charger: Mango International FatCat Solstice 2.5 | $90
Why spend twice as much for a portable charging system to power your mobile phone, MP3 player or iPod while camping or hiking, when you can buy the inexpensive, versatile FatCat Solstice 2.5? It can handle a range of devices from 4.5 to 9V. (Many competitors only charge up to 5V.) It comes with 11 connectors covering a range of devices including Apple, RIM and Samsung. (Additional connectors are available as well.) It's extremely lightweight at just 225 g, and It sports a built-in emergency LED flashlight, too.
Lantern: Coleman LED Quad Lantern | $80
Four lights in one—that's what you get with the Quad. As a single unit, it contains 24 LED bulbs providing a very bright 190 lumens of light for up to 75 hours of continuous operation. But its four sections, each with six bulbs and its own rechargeable batteries, separate and can be used independently. That means you or one of your camping companions can answer nature's nighttime call while leaving the rest of the unit in place. The Quad runs on eight D batteries, so it weighs in at a bulky 2.8 kg. Still, it's hard to beat in terms of versatility and brightness.