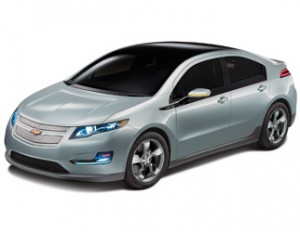 You compost your leftovers and buy rechargeable batteries. You wrap gifts in reusable bags and your child's lunch is always packed in Tupperware. But still you yearn to do more for Mother Earth. Well, maybe it's time to recycle your old ride for a shiny, new hybrid.
It's been 15 years since the first Toyota Prius rolled off an assembly line in Japan and the technology that powered the world's first gas/electric vehicle has improved dramatically. So too has the number of rival manufacturers offering fuel-sipping hybrids. This issue, our expert panelists provide us with their take on five vehicles that help you go that extra mile for the environment.
Best Deal: Chevy Volt $42,000
Although the price tag is high, buyers may qualify for a subsidy of approximately $8,000 in some provinces. The Volt's Cost of Ownership score in the table below accounts for this sizable rebate, but even without that saving it would still provide the best overall value due to its innovative design. Unlike our other picks that use an electric motor to boost a smaller gas engine, the Volt drives on battery power alone for the first 60 km. But it's what happens next that sets this hybrid apart. "When there's no more electric juice, a small 1.4-L gas engine generator kicks in, powering the vehicle for up to 500 km," says Petrina Gentile. That was designed to ease the so-called "range anxiety" that plagues owners of true electric vehicles. "The week I test-drove the Volt, I did more than 350 km and it cost me $2.98 in gas!" adds Nadine Filion.
2nd: Ford Fusion $22,499
Ford is a little off the radar for most hybrid buyers, but its new spacious Fusion model earned high marks. Jil McIntosh praised its "smooth operation, ultra-comfortable interior and gorgeous, Aston Martin-inspired styling." Her only criticism concerned the "non-intuitive controls that take too much attention away from the road." But Nika Rolczewski declared it "a winner" from the start. "The Fusion combines performance and functionality, with guilt-free driving. The transition from battery to gas power is less noticeable than other hybrids." Ford's 2013 redesign allows the car to cruise on electric motor alone for brief periods at speeds up to 75 km/h. That's twice as fast some of its competitors.
3rd: Toyota Prius $26,100
There are now four models of this pioneering innovator and Toyota boasts sales of more than three million hybrids to date. We've focused on the latest incarnation of the original Prius, still considered the benchmark to beat. George Iny calls this model "the most economical of the hybrids you can't plug in to recharge." He also lauds it for having "exceptional reliability and very good resale value." Where most of our experts faulted the Prius was its performance. "My lead foot did little to make the car accelerate up to speed sooner," says Rolczewski. "I was left hoping the hamster would run a little faster when merging onto the highway."
4th: Kia Optima $30,595
Kia is relatively new to the hybrid game but it brings a lot of innovation and style to the table. Similarly sized to the Fusion, our experts say the Optima gives few hints of its frugal nature when you're behind the wheel. "It's one of the hybrids that you can drive like any other car," says Filion. "There is no awkward braking (a typical hybrid drawback) and it is a very good-looking car, too." The Optima is Kia's first hybrid ever sold in North America and shares a great many parts with its Hyundai cousin, the Sonata Hybrid. Iny calls the Optima "a great car regardless of the powertrain" but has trouble finding a compelling reason to choose the hybrid version over the regular Optima, which is already fairly economical.
5th: Honda Insight $21,990
Honda beat Toyota to the punch by launching the original Insight a few months before the first Prius was rolled out. But it failed to sell because of its odd styling and large battery pack that left no room for a rear seat. The current Insight is designed with economy in mind but our critics struggled to find much to like beyond its affordable price. "They cut too much on the equipment," says Filion. McIntosh also notes the Insight's electric motor is used primarily to assist the gasoline engine. "That brings down the price, but reduces its appeal for those commuting in stop-and-go traffic." Iny suggests buying a regular gas engine Honda Fit and pocketing the difference instead.
Expert Panel
George Iny: President of the Automobile Protection Association
Nika Rolczewski: Automotive Columnist for the Toronto Star
Petrina Gentile: Automotive Journalist and Producer of CTV's and BNN's Car/Business
Jil McIntosh: Automotive Journalist for the Toronto Star and Assistant Editor at Autos.ca
Nadine Filion: Award-Winning Automotive Journalist based in Montreal
HOW WE CAME UP WITH THE NUMBERS
Price reflects the manufacturer's suggested retail price without options or destination charge. For cost of ownership, we used data from Edmunds.com and converted it to Canadian dollars per kilometre. The safety score is based on ranking by IIHS and NHTSA, the leading authorities in the U.S. Reliability is based on Consumer Reports data gathered from vehicle owner questionnaires. Driving experience is the average score for each model provided by our expert panel. To obtain our overall value score, we assign a weight of 20% each to cost of ownership and reliability, 10% to safety and 50% to driving experience. The higher the score out of 10, the better the value offered by the vehicle.