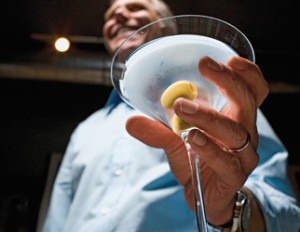 It's Friday night and you've just sidled up to the bar, ice-cold martini in hand, where—as luck would have it—your favourite song is playing softly in the background. As you anticipate taking that first sip, there's a self-satisfied smile on your face. But not just because you're about to shake off the weariness of the work week. It's because you're doing this in your own home.
Chalk it up to the Mad Men effect, but with classic cocktails all the rage again, home bars are more popular than ever. Stylish '60s kitsch aside, it's easy to understand why: convenience. You set the hours of operation and pick the decor, not to mention the clientele. There are savings, too: you didn't just pay $20 plus tip for that extra dry Gibson you're knocking back.
The upfront costs of setting up a home bar—everything from the bar itself to de rigueur gadgetry, and of course essential liquors—can be far less expensive than you might think. We'll help you create something that suits your needs and your budget.
Best laid plans
Not long ago Teresa Tsuji and her husband David Lamb stood in the unfinished basement of their home in Scarborough, Ont., fantasizing about what would one day fill the cavernous 750-sq-ft space. They had big ambitions: mounted flat-screen, surround sound stereo, billiards table, and—as the room's showpiece—a custom-built solid maple bar.
First, though, they'd need a plan. "David knew he wanted a home bar some day, so we had the plumbing and bar area roughed in when our home was built," says Tsuji. Prior to drywalling the basement, she adds, all of the electrical was completed to avoid later paying someone to fish wires through the wall.
If you're contemplating a home bar installation, "the earlier you start thinking about the bar, the better," says Steve Humphries, who operates The Bar Store Canada, a woodworking company in Fergus, Ont., which specializes in custom-built bars. "It makes everyone's lives easier in the long run."
Premature placement of plumbing and electrical is a common and costly mistake when prepping a home bar, says Humphries. "If you're going to start renovating, you're better off knowing the requirements beforehand. It's a real headache to move things around."
Face your space
Of course, not everyone will have the option of building an entire room around a home bar like Tsuji and Lamb were able to. So if you're working with a finished room, it is critical to evaluate the space—not just for size, but also for purpose. Will you be entertaining guests, or is your home bar intended only for personal use? Knowing the difference can save you thousands of dollars.
John Cavan and his partner Kathleen Honey, for instance, enjoy hosting big parties at their home in Georgetown, Ont. Their bar set-up includes a back unit with all the amenities: sink, refrigerator, dishwasher, icemaker, storage cabinets. The front unit features a sprawling bar top for guests wanting to pull up a stool.
This kind of classic bar set-up requires about eight sq ft in total and, on average, carries a price tag of $10,000 for design, construction and installation, says Humphries. (Appliances not included in this price.)
Don't have that much room to spare? Another option for those keen on entertaining, but with less space available, is simply to forgo the back unit. Not only will that knock two-and-a-half feet off your depth requirements, it will also cut costs in half.
Walk right up
For those who aren't concerned with hosting, a walk-up bar is a single unit that goes directly against a wall, taking up a depth of three feet. A design like this costs $3,000 to $4,000. "You still get everything you need in there," says Humphries. "You can have a fridge, a sink, your storage for bottles and glasses and all that stuff."
Some assembly required
If a custom-built bar is out of your budget, predesigned units are an option worth considering, says Ken Zaharko of Vancouver-based Home Billiards, a games room and home bar specialty store. One of his most popular sellers is an eight-foot-long solid maple walk-around bar with countertop, storage beneath and options for installing a sink or refrigerator. The price tag for this unit is $2,300, less than half the cost of a custom bar, says Zaharko.
Humphries, who sells similar products, says the only real drawback with predesigned bars is that you're limited to a small range of styles and sizes. But, he adds, "if you can stay in that predesigned unit you can save a lot of money."
Brilliant disguise
When it comes to the functionality of your bar, keep in mind that most people install home bars in their basements, where having access to a refrigerator and a sink is a must. Unless you're fond of continually running upstairs to grab cold drinks and rinse out glasses, you really want to have some of the features of a kitchen.
What you don't want, however, is for your bar to actually look like a kitchen, says Humphries. For him, full-size fridges are a no-no: "It really gets in the way of the look." Likewise, forget granite for countertops, "which veers heavily towards kitchen territory," he says, not to mention it's twice the cost of hardwood.
Keep it low-maintenance
If budget is a concern, it's easy to forgo other appliances, like dishwashers, which are convenient but hardly necessities. In particular, forget about icemakers. If Cavan had to do it again, he says he'd save the $1,000 he paid for his unit, which requires more maintenance than anticipated and is a major energy drain.
Likewise, advises Humphries, avoid keg fridges. "Most have a single or double tap so you can't have too many types of beer," he says. "And if you have the keg, you have to make sure you drink it in a certain amount of time." Maintenance is an issue too, because when you change kegs you have to clean the lines.
Finishing touches
Another major consideration for your home bar is the type of material from which it's constructed. Hardwoods remain the standard, not just because they have that classic pub look, but also because of their durability.
For Humphries, maple or oak are the best options. Compared to hardwoods like cherry (which is rare), these woods are 30% to 50% cheaper. However, if you have a choice, Zaharko says, go with maple, which has a finer grain that is more attractive.
Both Zaharko and Humphries agree dark stains offer a timeless look, but they differ slightly on their colour preferences. Humphries maintains dark browns "stand the test of time in looks," while Zaharko argues dark cherry stains are classic.
Whatever your thoughts on colour, be sure to keep the design of your bar clean and simple. "A lot of stuff has too much detail, which can quickly get dated," Humphries says. Keep in mind, too, that bars with simplified fronts are also cheaper.
À la carte
If you live in a small home or condo where space is extremely limited, don't overlook serving carts. Stores like Kitchen Stuff Plus and IKEA sell models with ample storage areas for wines and spirits, as well as room for essential bartending equipment like shakers, strainers, muddlers, zesters, jiggers and bar spoons. Carts cost as little as $100.
For Toronto apartment dweller Odessa Paloma Parker, a drink cart offers more than mere booze storage. "It's a piece of decor that looks really beautiful," she says, particularly its glass countertop, which showcases her collection of vintage glassware and martini shakers. "It adds an atmosphere to my apartment when I like to relax at home with a drink instead of going to a bar."
What's old is new
If you're pondering a timeless motif for your bar—and are looking beyond the standard sports- or pub-themed accoutrements—Paloma Parker's vintage-inspired bar decor is hardly just flavour-of-the-month retro cool. "Old vintage shakers and glassware—that's all classic stuff that won't go out of style," says Kristin Voisey, owner of BYOB, a Toronto boutique specializing in everything bar- and cocktail-related.
Choosing your poisons
The final key ingredient in any home bar will, of course, be the featured player: alcohol. While tastes vary, if you're looking to mix an array of classic cocktails, the menu is straightforward: gin, rum, vodka and a whiskey, such as rye or bourbon.
Nathan Hynes, owner of Toronto's Auld Spot Pub, says these four types of spirits see the most action at his bar because they're staple ingredients for standards like a martini or Old Fashioned. They're also integral to simpler pleasures like a rum and Coke, a vodka and soda or a gin and tonic. Other must-haves for mixing classic drinks include vermouth (sweet and dry) and bitters, adds Hynes.
If your eyes bug out every time you stroll down the liquor store aisle, flummoxed by the dizzying selection and varying costs, just remember price doesn't necessarily equate with quality, says Hynes. Products are often priced based on demand, and how much is spent on marketing and packaging.
Take Iceberg Vodka, which is widely available in Canada. Hynes says it's actually superior to Grey Goose, a high-end vodka that costs almost twice as much. "Iceberg is a great example of a vodka that is very good but is not marketed at premium vodka prices."
Generally speaking, high quality spirits shouldn't be your main concern if you're primarily using them for mixed drinks, Hynes says. You don't usually need to spend more than about $25 for a standard 750 mL bottle of gin, vodka, rum or rye.
With all of this advice from the pros, you're on your way to getting that fabulous home bar you've always dreamed of. So go ahead, pour yourself a tall, stiff drink, and start making plans. Cheers!