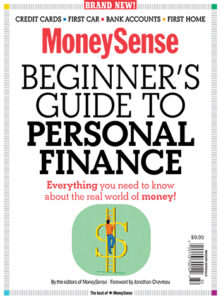 Do you want to learn to manage your money successfully? MoneySense, Canada's trusted personal finance magazine, shows you everything you need to know to grow your wealth.
You'll learn how to supersize your savings and get out of debt fast. We'll teach you how to find the perfect car and home for you—and get a good deal on the price. You'll learn to invest your money and build a secure foundation for your retirement. By the end of the book, you'll feel confident that you can manage your finances effectively and grow your money.
This book is available wherever MoneySense is sold or you can order a hard copy here. You can also download the eBook on your favourite Apple device via  iTunes. It's also available for download on Amazon for your Kindle and at the Kobo online store.