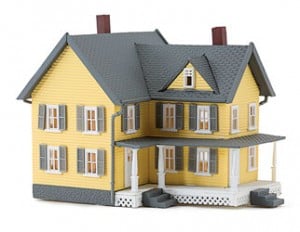 When my husband and I decided to move into a more family friendly home, we decided not to sell our first home. Instead, we rented it out.
To avoid a huge capital gains tax bill later on—when we do decide to sell the house—we opted to pay for a home appraisal. At a cost of $300 to $500, depending on how big or extensive your property is, the appraisal provides an up to date current market value for a home. We can then use this value to calculate whatever capital gains we may need to pay on the home, rather then using our purchase price (we'd done extensive renovations to the house and knew the value had increased since we'd moved in).
So I did a bit of digging and it turns out there are some tips for getting the best possible appraisal value for your home. Here's nine that can help you get top current market value:
Clean up. Sure, that sounds simple, but we're not just talking about making the bed or cleaning the cat litter. We're also talking about giving your carpet or floors a good vacuum or scrub and making sure dust isn't prevalent on tables, furnishings or baseboards. Also, get rid of projects. If you've got a car-in-progress in the backyard, consider removing it or, at least, building a contained shelter around it.
Pay attention to curb appeal. While a few dirty dishes in the sink won't impact your home's value, that  unruly  row hedge and your uncut lawn (or building snow mound) will. Take an hour and spruce up the outside of your home. Not only is it the appraiser's first impression, but the appraiser will spend a bit more time staring at the outside of your house as he/she makes notes and takes measurements.
List your updates. After installing new copper plumbing and re-doing all the electrical components—at a combined cost of well over $10,000—it's a shame not to highlight these upgrades. So, keep a list. State what work was done, by what company and when. If possible, give the appraiser this list. That way they have a reference as to what has been updated and how recent or professional that work was done.
Make your own list of notables. Love your home? Then brag about it. For instance, in the deep urban centre of Toronto, parking and a large outdoor space isn't just nice, it's a selling feature. So, make a list of features your home has and provide this list to your appraiser. Yes, they will compare your home to the homes in the area, but they'll have a better idea of what your home offers, which could increase your appraisal value.
Provide your own comps. I was stunned when one of the three appraisers we hired came in with a value $30,000 less than their competitors. When I asked about the difference, I was simply told that the comparables in the area forced the price down. Considering this particular section of Toronto has appreciated, on average, by 20% over the last three years I knew that this appraiser had been looking at the wrong comparables. For that reason, I think it's prudent to actually develop your own list of comparables. Keep an eye for homes selling on your street or area and then print off the MLS listing—or better yet, get a sales sheet (if the homeowner signed a disclosure agreement). While the appraiser will look for their own comparables, it doesn't hurt to provide them with a few of your own.