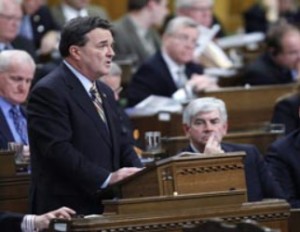 Anyone else planning to watch the budget announcement with a big back of chips and heaping bowl of salsa? I would be if I didn't have to work. Unfortunately, the announcement likely won't be as spicy as your snack.
As has been customary the last few years, much of the budget — or at least the Conservative's intentions — has already been revealed. The main talking point has been that Canadians can expect a dearth of new spending. On Monday, Stephen Harper revealed that he had to say "no" to many requests and that it was the hardest budget he's had to produce. It's also the smallest one. The priority, he says, is to focus on the second wave of the stimulus spending — about $19 billion — he announced in last year's budget, while keeping costs under control so the government can start paying down the deficit.
In other words, don't expect anything shocking on Thursday. It's highly unlikely the Conservatives will raise taxes, but it's also a safe to say they won't offer many tax cuts either. In the past the Government has unveiled small, but helpful tax breaks — last year we got the Home Renovation Tax Credit; in 2007 Flaherty introduced the Children's Fitness Tax Credit — so it's possible something small will be included.
Another priority is to create jobs. Today's Throne Speech will deal with that, as will the budget. It's rumoured that $4 billion will be set aside to help people get back to work. He's also planning to up the Fed's portion of its Own The Podium contribution from $11 million to $22 million, which is kinda neat. (I'm still not over the 14 gold medals Canada won.)
While it's probably unlikely, we could see some help for reitrees who are having difficulty making ends meet. The Investment Industry Association of Canada wants the government to allow older Canadaisn to make retroactive payments to their tax-free savings accounts, while abolishing the RIFF's minimum withdrawal limit.
It would also be nice to see some talk on pensions. At the end of last year the government promised to continue discussions on pension reform. Nothing's been worked out yet, and I don't expect some major announcement tomorrow, but you never know.
What I'm looking most forward to is Flaherty and Harper's plan to pay down the deficit — if they outline one. They've been mostly silent on that front, but with mounting pressure to come up with a road map, and a quiet budget that will leave plenty of time for the Conservatives to talk up Canada's financial future, we very well could get some insight into how the government hopes to proceed.
Beyond that, Canadians won't feel much different on Friday morning. Transfer payments to provinces are expected to stay the same, and without drastic spending cuts or increases, and no new tax initiatives, it should be business as usual in the months ahead.
Check MoneySense.ca tomorrow for in-depth budget coverage. We'll have analysis and an overview so you can find out exactly how the budget affects you.
Follow MoneySense on Twitter @moneysensemag and Bryan @_inthemoney.