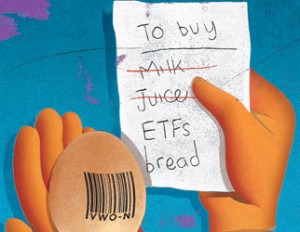 Canada's exchange-traded fund (ETF) industry has come off a banner year, with industry assets reaching $56.4 billion in 2012. That's a whopping 33% rise from 2011, according to the BMO Canadian ETF Outlook report, released Thursday.
Compound annual growth over five years is now 25.5%. And surprisingly, the majority of the record $12 billion of inflows into ETFs in Canada last year came from fixed-income ETFs (almost 60%), despite low interest rates.
Of course, the ETF juggernaut is also a global phenomenon: the American ETF industry alone has passed US$1.3 trillion in assets, accounting for almost 70% of the global market.
60% of Canada's ETFs are still being used by institutional investors, BMO says, with the other 40% retail. BMO says ETF growth is coming from holders of individual securities switching to ETFs, as they focus more on overall asset allocation than picking individual stocks or bonds. Citing other studies, BMO detects a shift from short-term tactical use to longer term strategic purposes. No surprise then that ETF holding periods are rising.
Pressure on fee disclosure for advisers
The report says rising regulatory pressures on fee disclosure are causing advisers to "re-evaluate embedded product fees." Advisers often use ETFs in fee-based accounts, managed accounts and commission-based accounts. ETFs are particularly popular in fee-based accounts, owing to their appeal as low cost investments.
More popular with Gen Y than Gen X or Boomers

Citing Investor Economics, BMO says wealthier households have favored ETFs but there's also a rise in use by younger investors. Over 40% of Generation Y investors own at least one ETF, versus only 19% of Gen Xers and 10% of baby boomers.
All these trends are one reason why we at MoneySense magazine introduced a new annual feature called ETF All-Stars. As readers can see on the front cover of the current RRSP issue, the new package is alongside our traditional Best Mutual Funds feature. We have slightly retrenched on the latter by focusing only on equity mutual funds: where there is still a chance that active security selection can add value despite higher fees.
BMO suggests one trend in the future will be the convergence of the mutual fund and ETF industries. Low cost will continue to be a driver and with interest rates still near historic lows, investors will continue to seek out ETFs that provide income and yield.