Canadian Couch Potato has finally joined the Twitter universe!
I'd like to encourage readers to add this blog to their Twitter list, and to tweet any individual posts they find interesting. Of course, I wouldn't ask you to do that for nothing, so I'm offering a little incentive. At the end of this week, I'll draw a name from all of those who helped spread the word and I'll send one lucky Couch Potato a potato masher from Cutco!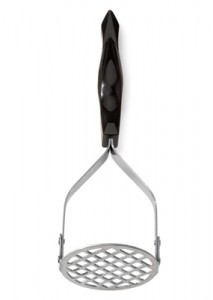 This is no cheap utensil from the dollar store: it's a restaurant-quality, masterfully engineered  product that retails for $53. It's highly diversified — it works on potatoes, squash, pumpkin pie filling, even guacamole. The ergonomically designed handle makes it easy to buy and hold. Best of all, there's no MER and no deferred sales charge.
Here's how to be entered into the draw for the potato masher:
Follow me on Twitter by clicking the link in the sidebar at right. Every new follower will receive three (3) entries in the draw.
Tweet any past or current article to your followers by clicking the "tweet" icon at the top right of each post. Every article you tweet gets you one (1) entry in the draw.
Blog readers who started following @CdnCouchPotato before this contest was announced, or who have already tweeted individual articles, will be automatically entered into the draw. We treat old friends just like new friends.
Contest ends at midnight on Thursday, August 26. I'll randomly choose the winner on Friday. Good luck, and thanks for tweeting. [Update: Congratulations to Tim, the blogger behind Canadian Dream: Free at 45, who was the winner of the draw.]
One more note: Readers of The Globe and Mail will be familiar with the "Me and My Money" column, which briefly profiles individuals and their investment strategies. I revealed the secrets of my own portfolio in this column last year. The paper is looking for subjects for future columns. If you're interested in sharing your story, please contact Tony Martin.