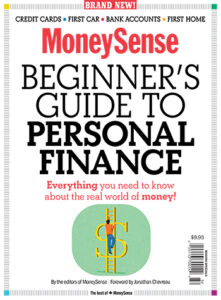 Today, MoneySense unveiled its new Beginner's Guide to Personal Finance, spearheaded by editor-at-large Dan Bortolotti. As indicated earlier on Twitter and LinkedIn, this is a digital-first product, with eBook versions now available on three platforms, Amazon, Apple and Kobo.
In a few weeks, it will be followed with a traditional print edition selling on the newsstands.
I view this guide as being aimed at younger people just entering the workforce and embarking on family formation, although I, as much as anyone, am well aware that there are many older people who—unfortunately—have yet to learn the basic principles of personal finance.
Money in must exceed money out
As I write in the foreword to the new guide, personal finance isn't rocket science. At its most basic level, it's all about understanding and acting on the basic principle that money coming in must exceed money going out or trouble soon results. In practice, this means living within one's means, setting a budget and ensuring that spending is always at a lower level than income from all sources. The resulting surplus is used to pay off debt if there is some and the behaviour used to pay down such debts—which I call "guerrilla frugality"—is continued even once you're debt-free, but the focus then becomes investing and wealth accumulation.
Personal finance in 90 seconds
See also the new MoneySense Personal Finance in 90 seconds series of videos. In this video, I introduce the series with almost the same concepts.
The new guide has seven chapters that pretty much follow the same philosophy. So we (chapter 1) Start with Saving, then we (chapter 2) Tackle Your Debts. We follow with chapters on the key consumption areas of a first home and car, then move to (chapter 5) Invest Wisely. We can't avoid the more mundane topics of Insurance and Taxes (chapter 6), and end with (chapter 7), Plan Your Retirement.
Many of the articles originally appeared in MoneySense but this is the first time we've put all the basic material into one convenient package. We're hopeful that even though regular subscribers should by now know this material, most of us can think of friends, family members and associates who for whatever reason still find money management baffling. That's why we subtitled it "Everything you need to know about the real world of money!"
Might even make a good graduation or Christmas present!
Enter below for your chance to win a free iTunes edition of The MoneySense Beginner's Guide to Personal Finance.