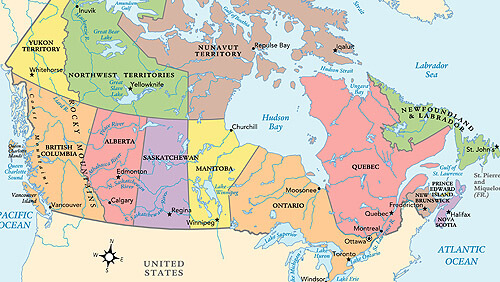 Jon Armstrong was excited. In six short weeks he was leaving Toronto for Vancouver to start a life with his fiancé. All that stood between him and his dreams was a moving truck, 4,775 kilometres and a $12,000 price tag.
To get his SUV and one-bedroom apartment packed up and shipped to the west coast, Jon called around to traditional moving companies. While costs can easily soar to $30,000 or $40,000, he managed to get the price-tag down to just over $12,000. Add in the cost of his flights and he would be out of pocket by almost $15,000.
A do-it-yourself cross-country could've saved James as much as $7,000, but the thought of packing and unpacking after spending driving across the country just wasn't appealing.
"I had a job and a fiance waiting for me," says the project manager, "and I didn't want to start my life after four days of eating bad road food and spending hundreds of dollars on gas."
Than a family friend suggested using a moving consolidator. A consolidator is a moving broker—a company that matches empty moving space offered by large and medium-sized moving companies, to people moving along established routes.
For Jon, it meant getting the same service as a cross-country van line—including the packing and unpacking of his belongings, basic insurance (with the option to purchase additional coverage), and a delivery guarantee—but at a third of the cost. He also had the added benefit of free storage for up to one month, if required, which was organized and paid for by the consolidator (although, he would've been responsible for hiring a truck and moving his items out of storage and into his new place).
The primary difference between large van lines and consolidators is that you're given a date range rather than a precise date for delivery, explains Dave Montgomery, president of Qwest Haven Relocation Services. "We make sure that every truck carries its maximum load," says Montgomery, "but that means coordinating multiple moves into one truck, so we have to give delivery ranges not delivery dates."
That doesn't mean you have to sit for a week, waiting for the truck to show up. "Once the truck is close to the destination city, we notify you that your belongings will be delivered in 48 hours," says Montgomery.
For Jon, the cross-country move with Qwest would cost approximately $5,000, and take about 16 days. If the delivery was delayed past 21 days, he would have a hotel paid for by the consolidator.
While Jon couldn't find the same great deal for shipping his SUV, he still found a shipping consolidator that would organize the pick-up, transportation (by truck or train), and drop-off of his SUV. He shelled out just over $1,350 (including tax and insurance) for this service, which took about a week.
The key to saving money with consolidators is to plan your move based on established routes—routes that are typically scheduled between large cities. If you live in a smaller city or town, that doesn't mean you can't use a consolidator, it just means you have to be flexible, pay a bit more, and do a bit of planning. For instance, if you were planning a move from Nova Scotia to Alberta, you'll probably get a better deal (and more scheduling options) if you started in Halifax, NS, then Wolfville, NS.
The best thing to do is call a few consolidators that work in your area and ask them for their established route list. If your city isn't on that list ask the consolidator what the options are—more than likely they'll work to find a starting city that's close by. Don't forget, though, you will be responsible getting your gear to the start of the route, and that could mean hiring a van and some movers. Still, for a cross-country move that could cost $10,000 or more, planning a little to save 50% can be worth it.
Also, moving consolidators are not limited to domestic moves. If you're moving permanently to Florida, or other sunnier climates, or just want to ship most of your worldly belongings to your vacation home, consider talking to a consolidator. Because a moving consolidator works with a variety of moving companies, they can easily negotiate a cross-country, international move, again, for a cheaper cost then a regular van-line.
In the end, the cross-country move cost Jon just under $6,500—and the love of his life celebrated his arrival with an airport pick-up and a bottle of wine.