In the spirit of Halloween I thought it would be a howl to showcase a snapshot of some of the scariest homes and buildings in North America. And yes. All puns are intended.
1) Buyer beware!
Located at 6878 St. Denis in Montreal, this Victorian home was built in 1919, by an entrepreneur for his wife and six children. Originally listed at $715,000, the home was on the market for months in 2012. The owners kept dropping the price until the eventually re-listed at $579,000. The untouched 11-room home finally sold for $400,000.
2) This is not the Hotel Transylvania
Considered an icon in the Toronto skyline, the Fairmont Royal York is one of the city's preeminent downtown hotels. However, there are rumours that an employee once hung himself in the stairway that leads up to the roof. Now his ghost is seen walking the halls of the 8th floor. Apparently, this ghost also likes a little midnight fun as he shakes the chandeliers and plays loud music in the middle of the night in the hotel's Crystal Ballroom.
3) A spook-tacular visit
In 1932, a bride apparently fell down a flight of stairs and died while staying at Alberta's Banff Springs Hotel. Now, she's seen wandering the halls in her wedding gown, or dancing by herself in the dining room. But she's not the only ghost reportedly wandering these halls. A bellhop, who is no longer alive, continues to help guests as if he's still working at the hotel.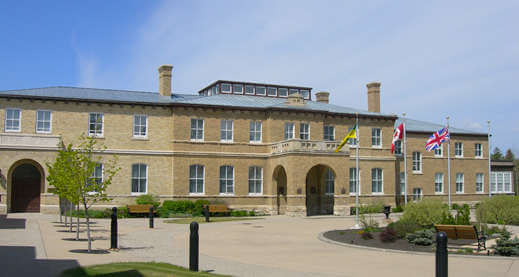 4)  A frighteningly good time
Originally built as the residence of the NWT Lieutenant-Governor, the Government House in Regina, SK, is now used only for ceremonial functions. Yet even without occupants, the house seems to be occupied. Employees report doors opening and closing on their own, eerie sounds of crying children and laughing babies, and faces of people mysteriously appearing in mirrors.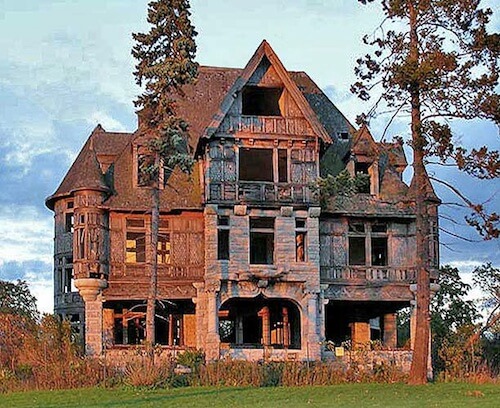 5)  Stone-cold terror
Built in 1894, the Carlton Villa is located on Carleton Island in the Thousand Islands archipelago of New York. Built for William O. Wyckoff, who made is fortune from Remington guns and typewriters, the Villa used to be a grand home. But after more than 60 years of neglect, the Carlton Villa is nearly gutted by the elements. In 2011, the house and the 6.9 acres of land it sits on was put up for sale for a mere $495,000 USD. An architect who surveyed the property said the stone structure was stable and required little work, but the restoration of the interior would cost a fortune.
6)  Ghost Stories
The infamous Chelsea Hotel in New York City is a well known landmark with it's wrought-iron balconies and its red brick facade. Built in 1884, it was home to a few notable writers, artists and musicians. Today visitors swear they bump into Dylan Thomas (Welsh poet who died in 1953), Eugene O'Neill (Irish-American playwright who also died in 1953) and Thomas Wolfe (American novelist who died in 1938).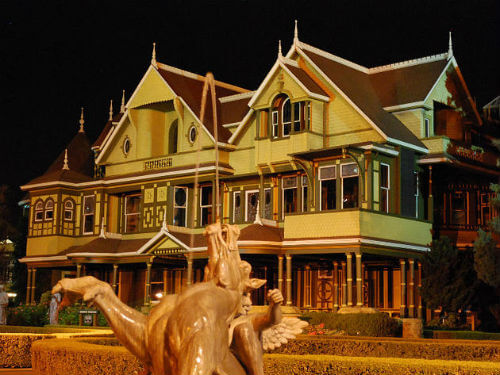 7)  Reno Nightmare
The 160-room mansion located in San Jose, California was built from the ground-up by Sarah Winchester, widow of the gun magnate, William Winchester. Construction started in 1884, three years after William's death, and reportedly did not stop until Sarah died in 1922. The cost of the reported constant renovation was estimated at $5.5-million USD—or in today's dollars the equivalent of $75-million USD.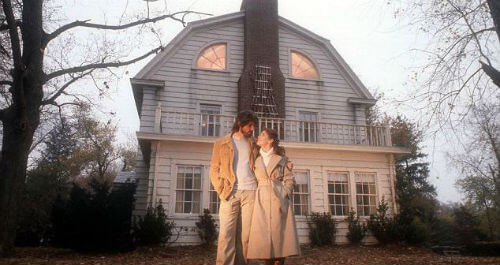 8)  Movie Madness Made Real
The story is well known, but every year the tale is told. In 1974, six members of the DeFeo family were found slain in their home. Eldest son, Ronald DeFeo Jr. was convicted of the murders. About a year later, the Lutz family moved in but quickly vacated the home when they started experiencing paranormal activity, such as strange odours, unexplained cold drafts and a demonic pig-like apparition.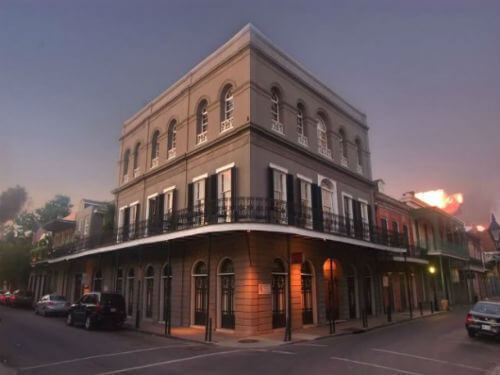 9)  Even Nicholas Cage Left
Louisana-born socialite Marie Delphine LaLaurie, enjoyed three marriages and a prominent place in New Orleans society despite a reputation that she treated her slaves brutally. Rumour has it she chained the cook to the stove and chased another with a whip (causing her to jump to her death). But it wasn't until April 10, 1834, when her true serial killer and sadistic nature became apparent. Rescuers responded to a fire at her Royal Street mansion. Inside the fire crew discovered barely-alive slaves that were bound by shackles in a secret room in her attic. The slaves showed evidence of prolonged torture and severe malnutrition. Outraged a mob sacked the home, but Madame LaLaurie reportedly fled to Paris, France. Visitors say they can hear screams of agony inside the home, which was owned and lived in by Nicholas Cage from 2007 to 2009.
Like Romana King's Home Owner on Facebook »