Question
When there is turmoil and significant volatility in the S&P/TSX Composite Index, my investment adviser continuously tells me to stay the course. In 2008 the index was at 15,000, but then dropped to 7,500 and still has not recovered. I'm 75 and my portfolio is split 30% equity and 70% fixed income. Do you support my adviser's position on this?
Answer
Yes, I do support your adviser's position and I believe that it is critical to stay the course in periods of market volatility.
One of the biggest mistakes the average investor can make is getting caught in the violent and ever-changing current of the stock market. They can get greedy as the markets climb, then panic when they fall as if they are surprised by the volatility.
But volatility isn't a surprise. The stock market is volatile; that is how it behaves. It's just like the weather in Calgary where I live. On any given day in February it can be minus 20°C at 8 a.m., then plus 10°C in the afternoon because a Chinook rolled into town; like it or not that's life in Calgary.
Check out the long-term graph of the TSX below. The performance is volatile, to be sure. But it is clear that the market recovered from the Asian crisis in 1998, the dot com bust in 2000, and the terrorist attacks in 2001. If you had sold your position during any of these periods you would have solidified your losses and missed out missed out on some significant gains. It may take years for the market to rise above 2008 levels, but history gives us some confidence that it will, eventually.
S&P/TSX Composite Index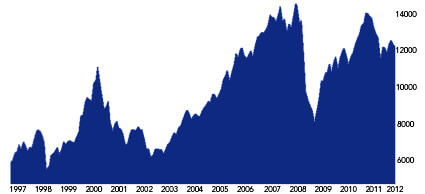 Source: Bloomberg
All that being said, some of us can't wait. Because of your age I think there are some additional questions that you should review with your adviser to make sure your asset allocation still makes sense. But do this based on your goals and not on the day-to-day volatility you see in the markets.
What is your nest egg for? Talk through your goals again with your adviser to ensure that you're still singing from the same song sheet. Is your goal to simply fund your retirement? Or do you want to leave a legacy for your family? It may be that moving to 100% fixed income will impair your ability to meet your goals, or it may not. Talk that through.
How does a worst-case scenario really affect you? Based on those goals, what happens if the TSX dropped back to 5,000? Does it make you feel bad? Or does it impact your ability to put groceries in your fridge? For a 40-year-old like me, a 50% decline in the stock market is a loss on paper only. It is hard to stomach, of course, but it doesn't impact my ability to pay for groceries during retirement because I have so much time for markets to recover. That is why I'm only marginally interested in these gyrations. I'm not trying to time the market so they aren't relevant to me. Have your adviser show you the numbers and see if you can live with the consequences of the worst-case scenario.
Has your risk tolerance changed? Your asset allocation is about right for your age, using the rule of thumb of fixed income equal to age. But something may have changed in your circumstances or mindset that would have you want to lower your risk. Ponder this and talk to your adviser about it.
What would be the strategy to lower your equity stake? If your risk tolerance has changed, or this new discussion about your goals permits a reduction in your equity stake, ask your adviser for a recommendation on how to do it over time, instead of pushing the panic button right now. For example, you might have Barrick Gold shares that you bought at $22 that you could sell now at $40. You'd be reducing your equity position, but still at a profit, even though the shares are off about $15 from their 52-week high.
There are other questions that might be helpful. I'm sure our readers will add a few in the comments below. But let's be clear: you have a choice. Just like Calgarians don't have to live in Calgary, you don't have to invest in the stock market. However, if you choose to get out, do it because your priorities have changed, not because of the market. The market is doing what it has always done—going up and down, keeping people awake at night and providing endless fodder for financial pundits who believe they can call the top or the bottom.