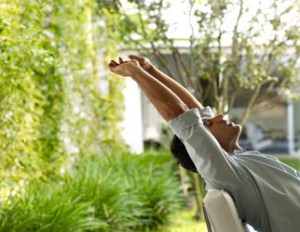 Summer vacation is just around the corner and you're probably wondering if you should spend the money to take the fam away, visit relatives or stay put.
Y'know, I think folks have come to believe that vacations are a right, not a privilege. Once upon a time, you could only jet (or drive) off to a faraway place if you had the money to pay for it. That means you'd made a plan. And you'd saved. Now people go on vacation arriving home to a hangover: vacation debt that continues to eat away at their financial security. If you're actually worried about how much the trip is going to cost, you probably shouldn't take it. Opt instead for a staycation.
What do you like to do when you're on vacation? Whatever it is, when this year's vacation time rolls around, plan to do it from home. Even if it includes one or two nights in a hotel, you'll save tons of money and have a great time with the right attitude and a little planning.
See the sights. Been to the museum? The art gallery? The local jazz festival? Pretend you're in a foreign city and drum up the same excitement as you would if you were seeing these things in a place you had to pay thousands of dollars to get to.
Take in some theatre. Check out a high-school, community theatre or professional production.
Do something different. Go to the symphony, the opera, or a rock concert. Go rock climbing. Try go-cart racing.
Swim, splash and play. Want to spend a quiet day sipping margaritas while the kids swim their hearts out? Find a local hotel with a fabulous swimming pool and book it for the day.
Theme your meals. Decide you'll only eat Spanish food and chomp your way through a good cross-section of Spanish restaurants. It's almost like being in Spain!
Luxuriate. Love to have a massage, a pedicure, a facial?  Whether it's part of your hotel stay (lots of hotels offer this service now) or a daylong self-indulgence, treat yourself as part of your staycation.
Leave a little time for that stack of books you've been longing to read. Rent a mountain of videos for the evenings you do stay home. And don't forget to take lots of pictures for your staycation scrapbook. Without photos to flip through, you might forget what a great time you had sticking close to home.