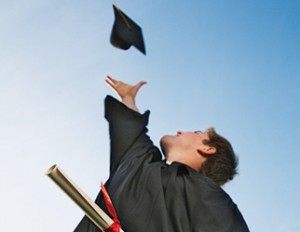 Canada's post-secondary students get an 'A' when it comes to credit card habits.
Nearly nine in 10 college and university students have a credit card and 65% use it regularly making 12 purchases a month on average. What's more, 80% of them pay off their balance—in full—every month, according to an annual survey for BMO. Pretty impressive, especially when you consider the wider population was carrying on average $3,556 in credit card debt in the second quarter, TransUnion Canada data shows.
It's not surprising then that the majority of students polled don't expect to have any credit card debt when they graduate. Talk about getting started on the right foot.
Pollara, a public opinion and research company, conducted the survey of more than 1,000 students on behalf of the bank and found only 6% use their cards to pay for school expenses, using their plastic instead to pay for discretionary items. Convenience, not lack of funds, it would seem are behind most of their credit card purchases. BMO did not ask students whether they're paying off their credit card bills using money from student lines of credit though its not a behaviour the bank typically sees in its portfolio. Student lines of credit usually come with lower borrowing costs than credit cards.
"Students are doing their homework when they use credit cards. They clearly understand the wisdom behind treating them as payment vehicles—not borrowing instruments," said BMO vice-president Su McVey in a press release.
The study also found that more young adults are using student discount programs and loyalty reward programs. Fifty-six per cent of students are using discount and rewards programs this year, up from 47% in 2011, the results show.
MoneySense recommends students who struggle to pay off their balances in full each month opt for a low-rate credit card charging between 4% and 9% interest, as oppose to the typical 19%, if they absolutely need a credit card. Students who pay off their bills regularly are ahead of their class and should consider a student card. We've ranked the best student credit cards with no annual fee and great perks such cash-back and discounts on clothing, movies and travel.
The Pollara online survey was completed between July 19 and July 26, 2012, with a sample of 1,018 post-secondary students. A probability sample of this size would yield results accurate to ± 3.1%, 19 times out of 20.