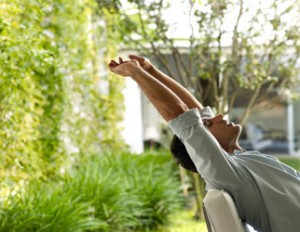 You have to have enough money set aside to go on vacation without coming back to a hangover … debt that continues to eat away at your financial security. If you're actually worried about how much your summer trip is going to cost, you probably shouldn't take it. Instead, consider a staycation.
What's a staycation? That's when you stay home and pretend you're on vacation.
What do you like to do when you're on vacation? Whatever it is, when this year's vacation time rolls around, plan to do it from home. Even if it includes one or two nights in a hotel, with the right attitude and a little planning you'll save tons of money and have a great time.
See the sights
Have you seen everything in your community? Been to the train museum? The art gallery? The local pow wow? If you haven't been to the museum in the past two years, it's time to go and see what's new. Pretend you've got friends in from other lands and take yourself to all the places you'd take them.
Take in some theatre
Communities everywhere have productions ranging from the high-school musical to community theatre to professional theatre. Plan a night at the theatre or go to the symphony, the opera, or a rock concert. With all the money you're not spending on travel and accommodation, you can have a ball.
Swim, splash and play
Want to spend a quiet day sipping margaritas while the kids swim their hearts out? Find a local hotel with a nice pool and book in for the day. Have lunch on site and take a break with the kids for far less than it costs to zoom away to the tropics.
Eat out to your heart's desire
This is one of my favorite parts of going on vacation: no cooking, no cleaning up. So hey, if you love to eat out, plan to do lots of it during your staycation. Try new restaurants you've never tried before. If you want to go with a theme, decide you'll only eat in Spanish restaurants and eat your way through a good cross-section. There, almost like being in Spain.
Indulge in luxury
Love to have a massage, a pedicure, a facial? Hey, have one on staycation. Whether it's part of your hotel stay (lots of hotels offer this service now) or a day-long self-indulgence, do it.
Pick a start and end date for your staycation to make it official. Declare a choratorium – no one has to make their bed, do the dishes, sweep (hiring a cleaning service for mid-week to whip the house back into shape). Pack your schedule full of fun and fabulous things to do. Leave a little time for that book you've been longing to read. Rent a mountain of videos for the evenings you do stay home. And don't forget to take lots of pictures. After all, without photos to flip through, you might forget what a GREAT time you had sticking close to home and doing all the things you love to do right in your own backyard.