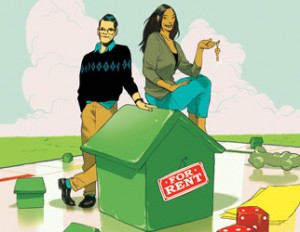 When my daughter, Alex, moved into her first rental in her second year of university, it came with some surprises. First there was the willow tree that fell down and wiped out the electricity for four days. Next there was the leaky bathroom. Then there were the bats that sent her off to the emergency room for rabies shots. Alex quickly became a disgruntled tenant. But locations close to school are tough to come by. And with the rental market nearly at capacity in some cities, many tenants are experiencing "beggars can't be choosers" syndrome.
As a renter, finding an affordable home in decent condition with a landlord who isn't apathetic can be a tough haul. And once you've signed that required one-year lease, you're stuck. Landlords and property managers often ask for, and receive, post-dated cheques and security deposits, both of which may be illegal in your province.
Know your rights
Ticked-off-Alex decided to do some research into tenant rights after her bat incident. Alex's property manager asked for the security deposit and post-dated cheques, illegal in Ontario, and she's holding the threat of reporting in her pocket for the next time the house needs some fast attention. Every province is different, so do your homework. The Canada Mortgage and Housing Corporation has a terrific set of fact sheets for each province and territory, so start here.
There's strength in numbers
While we all like to think that discrimination doesn't happen, it does. Taking along a friend while you're meeting with a prospective landlord will significantly lower the risk of discrimination and provide you with a witness to anything your landlord says and later reneges on.
Never pay with cash
Make your initial deposit by cheques or credit card so you have a paper trail. If you must use cash, get a receipt that clearly spells out what the payment was for. And never, ever, send money to a landlord you've met online through ads on places like Craigslist or Kijiji. Those may be scams and you may be their next sucker.
Get it in writing
Whatever promises a landlord makes may go up in smoke if you haven't gotten it in writing. That promise to fix the kitchen tap took Alex's landlord a year to implement. When you have to ask for repairs to be done, do it in writing and keep the landlord's responses in a file just in case you have to take him to court and need proof of your communications.
Do an inspection
Pretend you're Mike Holmes and walk around that property with a critical eye and a pad and pen, taking note of repair issues, cleanliness of the property and the general upkeep of the home. Take pictures of anything you could later be blamed for to show they existed prior to you moving in.
Be ready to jump on a place
In tight rental markets even a one-day delay may mean a perfectly good place is gone. Have your payment ready, bring references, and be ready to accept a good place as soon as you find one.