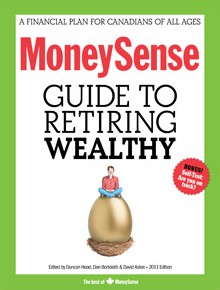 A few weeks ago, I had the privilege of working on the MoneySense Guide to Retiring Wealthy, which has just been published. The guide is now available at retailers such as Chapters, Indigo, Shopper's Drug Mart, Walmart and Loblaws, or online for $9.95 plus $3 shipping.
This 132-page book — co-edited by MoneySense editor Duncan Hood, long-time contributor David Aston, and me — collects the best retirement and financial planning articles from the pages of MoneySense and organizes them by decade of life. We start with young investors in their 20s, who are just learning to form good financial habits, and we go all the way to managing retirement in your 70s. Everything has been fully updated to include the latest statistics and most current information about government programs and regulations.
As Duncan Hood explains in the introduction:
Unlike dull retirement books stuffed with dense calculations, or chatty volumes bubbling with lightweight tips, MoneySense's complete retirement guide has just what you're looking for: proven retirement advice delivered in a straightforward manner—all of it backed up by the editors of Canada's most-read personal finance magazine.
We'll tell you how to put together a realistic financial plan, and how to stick to it. We have sections on how to retire early, how to stress-test your retirement plan, and why you don't need to save a million dollars after all. Every chapter is packed with useful information, but you can always skip straight to the decade you are in to make sure you're on track. At the end we even include a self-test so you can find out how you're doing so far.
I'm giving away three copies of the MoneySense Guide to Retiring Wealthy to Canadian Couch Potato readers. To enter the draw, leave a comment below with your most pressing question about retirement. Are you worried you haven't saved enough? Concerned that your workplace pension may not deliver what it promised? Or is your only concern that you'll run out of great places to play golf? Let us know what's on your mind.
Tweet this post to your followers and receive three entries in the draw.
Contest closes at midnight on Tuesday, October 26. I'll announce the winners on Wednesday.
While we're on the subject of giveaways, congratulations to Yang S. and Paul E., both of whom won a pair of tickets to see Richard Branson and Peter Aceto at Toronto's Westin Harbour Castle on Wednesday. The skill-testing question asked for the names of the index funds offered by ING Direct Canada and Virgin Money UK. Everyone got the first one (ING Direct's Streetwise Funds), but the Virgin product was a little trickier. The correct answer is the FTSE All-Share Tracker Fund, which holds more than 600 stocks trading on the London Stock Exchange. Thanks to ING Direct for supplying the tickets.