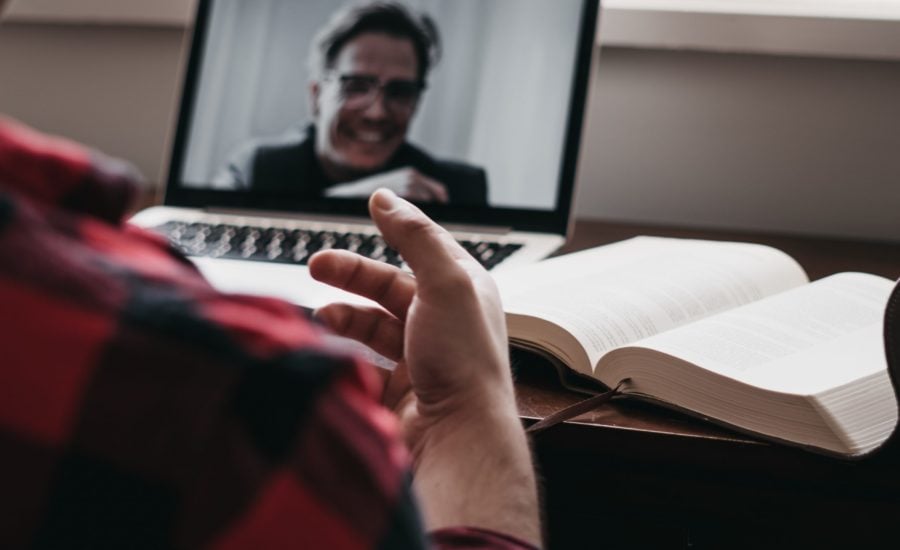 About five years ago, Angelo Dodaro and his marketing agency partner were sitting in a bar, meeting with a potential events client. They were pitching their video and photography services when the client mentioned, almost in passing, "Okay, but we also need someone to manage our Facebook ads."
Dodaro didn't waste any time. Given a few months to come back with a formal proposal, he dove head-first into online learning, to get up to speed on social media marketing. 
The investment of time and money paid off: the client later said it was the best proposal for a Facebook marketing campaign they'd ever seen. Not bad for someone whose formal education was in audio engineering. 
Even if you haven't studied formally in years, the value of doing so today has never been greater. According to Statistics Canada, more than a million people across the country lost their jobs in March 2020 alone—double what some economists had predicted. Even for those lucky enough to keep their jobs, the nature of their roles, their future career paths and what they need to stay marketable may have changed suddenly. 
Besides being able to work (and perhaps manage teams) remotely, there will continue to be massive demand for digital skills in the future. These include jobs in cybersecurity, web development, data science and user experience (UX) design, among others, which not only support online economic activity itself, but are required to maintain its underlying infrastructure.
While options to study these kinds of skills online have been steadily growing for years, the COVID-19 pandemic is accelerating a new wave of online learning. New technologies, from cloud computing to video conferencing and platforms like Slack, are seismically shifting the education landscape, making it possible to develop new skills in a multiplicity of ways inside and outside of the classroom. 
"I had started to do digital courses online—some free formal courses on DigitalMarketer and Facebook Blueprint, along with a heaping dose of YouTube," Dodaro says. "Eventually, I was taking more paid courses, but not from the traditional school systems. I've found they just gave me this massive leg up." 
The challenge, especially for those who are only now recognizing the need to upgrade their skills, is figuring out how best to navigate the changing marketplace of online learning options. After all, it isn't only colleges and universities working hard to prepare workers for a digital future, but, increasingly, companies like Amazon, Google and IBM, which have been developing online learning tools for years. Platforms like Udemy and Skillshare, meanwhile, are crowdsourcing education—and challenging old business models—by enabling instructors to sell their courses directly to learners online. 
It's no wonder learners are overwhelmed. What's needed is a roadmap for a 21st-century education. If you're considering upgrading your skills or changing careers, here's one to get you started. 
Option 1: Dabble in MOOCs (massive open online courses)
Fun fact: the term "massive open online course," or MOOC, was coined by a Canadian—the University of PEI's Dave Cormier—in 2008. The concept began much earlier, though, with online platforms that promised to offer courses anyone could access from anywhere in the world. 
Today, a MOOC is most often delivered in partnership with a college or university and a technology provider, such as Coursera, Udacity or EdX. Similarly, Udemy, Skillshare and LinkedIn Learning offer MOOCs on a pay-per-course or subscription basis. 
Pros and cons
If you're already working (and possibly parenting) full-time, a MOOC can offer flexibility to study at your own pace. The subject matter tends to be diverse, from Roman history, to artificial intelligence, to the science of happiness. 
That said, MOOCs are an example of asynchronous learning, which means you're not going to be connecting in real-time (if at all) with your instructor or fellow students. This could be why, according to University Affairs, MOOCs have an average completion rate of about 5%. MOOCs don't necessarily offer credentials, either, so this may be the right approach if you want to get your feet wet before making a bigger commitment. 
Cost considerations
MOOCs can be free or low-cost, but some allow you to pay a fee to verify you completed a course for US$125 or more. Make sure to consider the full range of MOOC providers and look for reviews, like these ones for Coursera.
Option 2: Say hello to hybrid learning
Until a vaccine for COVID-19 has been found, postsecondary students returning to campus this fall may find some combination of online asynchronous learning and live instruction has become an everyday reality. 
Depending on your educational or career goals, hybrid learning can offer the best of both worlds: MOOC-style lectures and modules you can dive into on your own time, plus access to live support from instructors, group chats, feedback through graded assignments, and other activities offered in-class or moderated through virtual channels. Hybrid learning is offered by many different institutions; colleges and universities began moving portions of their programs online years ago. 
Pros and cons
The variety of hybrid learning providers is particularly wide, from coding bootcamps to programs offered by the likes of Ryerson University's Chang School and the University of Toronto School of Continuing Studies. Traditional colleges and universities are stepping up institutional efforts to move as much learning as possible online for the fall of 2020, with robust digital learning plans already rolling out at UBC, McGill, Royal Roads, Athabasca, Memorial University and the University of Winnipeg, for example. 
These aren't usually a means of getting a degree, but unless you're taking a one-off course you might be able to earn a full credential through hybrid learning. You could take multiple courses, for instance, to get certified in an area like project management or cybersecurity that enable some of the flexibility of a MOOC with much of the live support needed to keep you motivated and develop deeper expertise in your field. Hybrid learning runs the gamut, and you can expect much more of it to be offered, even as part of degree programs, in the future. 
Cost considerations
A lot will depend on how many courses you're planning to take, which can range from a few hundred dollars to thousands of dollars. Think of hybrid learning as a set of building blocks to get you where you want to be. In some cases, a small investment can allow you to boost your skills in a particular subject while waiting for in-person classes to resume. Invest more money (and time), and you could get a certificate or degree that might lead to a promotion or help you move into a new career entirely. 
Option 3: Learn through live online instruction
Many of us are already working with people across time zones, using a variety of digital tools to communicate, share ideas and complete projects. There's no reason why you can't study a new subject or build on your existing knowledge the exact same way. 
Live online training tends to be most attractive when you personally like a traditional learning experience along with a high degree of peer interaction and instructor support. This could include connecting to your peers through Slack channels, or through sophisticated learning management systems (LMS) with their own built-in modes of interaction (think videos, live discussion forums, social messaging apps, and places to download assignments and review grades). 
Pros and cons
If you're looking to maximize the return on investment (ROI) for your continuing education, live training means you'll have greater access to mentors and tutors. It's a highly competitive space, where coding bootcamps such as Brainstation, CareerFoundry and General Assembly, to name a few, are experimenting in ways traditional universities may not be. You'll also get credentials that may be essential in the post-pandemic economy, from an online MBA to a specialized certification through, for example, an online digital marketing course. But you can expect the cost of learning to climb in tandem with the intensity of live instruction, mentorship and career support being offered. 
Cost considerations
Contrary to popular belief, live online training is as, if not more, expensive than in-class training. Prices at private career colleges like BrainStation can reach $15,000 for three-month accelerated programs. That said, providers are finding ways to innovate when it comes to curriculum and delivery, as well as payment options. Brainstation and Juno College in Canada, and others beyond Canada's borders, offer what are known as Income Share Agreements (ISAs), which can allow you to enroll for as little as a dollar and pay back a percentage of your income once you secure a job in your field. (Note, however, that it's cheaper in the long run to pay upfront.) 
The future of education is flexible
While Dodaro is a self-described "doer" who took the initiative to pursue his dreams, the pandemic has also forced those in traditional four-year degree programs to make a sudden shift.
Michelle Nguyen, for example, was finishing up her third year of a four-year in-class public relations program at Humber College in Toronto when she learned she would be taking her exams remotely. 
"It was so strange—we were sitting there in class watching the news, then I went home and got the notification," she said. In the end, she found herself filling out multiple-choice questions and short-answer essays through a program called Blackboard. "Overall, I would say they did a pretty good job in managing the whole situation."
Although Nguyen and her classmates had to pivot quickly, the gradual reopening of the economy as the spread of COVID-19 is managed may allow other Canadians to re-evaluate their job skills in a more thoughtful and strategic way. It's not just that education is "going online," but that education is evolving in ways that respond to both student and market needs. 
As some employer objectives become more specialized—such as using technology like artificial intelligence, for example, or pursuing goals around diversity and inclusion—learning may be tied to specific projects and therefore uncoupled from traditional learning formats. At the same time, lifelong learners are increasingly self-directed and seeking out mentors with close ties to industry. 
Sometimes the decisions around professional development look complicated because "online education" seems to span extremes from free resources like YouTube or JSTOR to formal degree programs. Schools are recognizing that, however, and offering more modular options, like the University of Toronto School of Continuing Studies' recent move to micro-courses (think of them as units from what might, in the past, have been grouped together to make up a traditional course). At the same time, "micro-credentialing" platforms like Credly are cropping up to help employers recognize and evaluate credentials earned through a variety of online course providers. 
Nguyen suggests that in some cases, it's best to start by studying a subject like PR broadly, then looking at whether you want to upgrade your skills in a more specific area. 
"I feel like that discovery phase is so important," she says. "It's where you can sometimes find the mentorship you need to understand that, 'This is what the work is,' and whether you want to do it or not."
Dodaro has a litmus test for online courses he uses to this day: Is the instructor credible? Does she have examples of exceptional work? Most importantly, do you like the work she does? Being a fan can be hugely motivating to you as an online student. 
"There are a lot of people online now—including, sometimes, people who aren't in the traditional education system who 'do' as well as teach," he said. "When you find the right teachers as well as the right course, you learn in a way that's extremely powerful."
Robert Furtado is the CEO of CourseCompare, Canada's marketplace for education. Robert is a former marketing agency executive and instructor at the Humber School of Media Studies. He created CourseCompare to make it easier for people to identify and pursue in-demand skills across Canada and beyond.
RELATED ARTICLES: