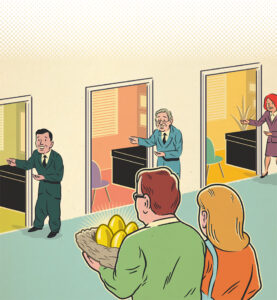 Real estate investors famously focus on location, location, location. If they started reading up on hiring a financial adviser, they might conclude the three most important things are fees, fees, fees. At least that's the view from the outside looking in after scanning various newspapers, magazines, and investor advocacy websites.
Is that all there is to successfully managing your personal finances? Finding the lowest-cost solution?
Every day, investors recount stories of being shocked when they discover just how much they're paying for financial advice or products, or only the latter. An investor starting from scratch and contributing $3,600 per year into a run-of-the mill mutual fund sporting an MER of 2.5% will have paid north of $37,000 in costs over the first 25 years. The same investor using a 0.25% MER exchange-traded index fund (ETF) with a no-cost automatic contribution option would pay less than $5,000 in costs and have $50,000 more in his portfolio. (We assume each fund can match a market return of 6% per year before fees.)
Results are even more dramatic for large lump-sum investments. In both scenarios $100,000 yields savings of over $87,000 in fees and a portfolio that's $175,000 larger for the Do-It-Yourself (DIY) indexer over 25 years.
Framed as simply as that, the "fees matter" argument is hard to ignore. But the flip side of any discussion around cost is value. What do you get in return for what you're paying? Given that the needs of financial consumers are varied, there's more than meets the eye to this discussion.
It's about more than just investments or investing
Certified financial planner John DeGoey, portfolio manager with Burgeonvest Bick Securities, tackles these issues in his book, The Professional Financial Advisor III. "Advisers play different roles for different people, depending on their needs and circumstances," he says. "Many think their role is to pick stocks, pick funds or time markets, but those are decidedly not part of a reputable adviser's skill set. Instead, the good ones help investors set and work toward goals, plan for life's surprises, engage in constructive behaviour modification, and maintain accountability with things like regular saving and setting up RESPs for the kids."
Ideally, financial advisers handle more than just investments. They provide financial planning and motivation to keep clients on track.
Let's assume you started investing early, have a perfect portfolio and can stick with your investing plan. Perhaps you're self-employed, with a stay-at-home spouse and three children. You get into a car accident, your spouse dies, and you're in a coma for three years. Now what?