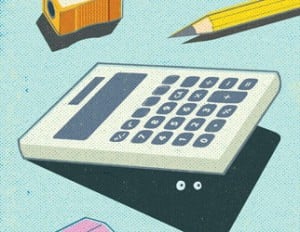 Did your portfolio perform well last year? How about over the last five or 10 years? If you're like most investors, you haven't got a clue.
Consider an investor who started the year with $50,000 and finished it with $55,000. That's a 10% return, right? But what if she'd made $250 monthly contributions? That would throw off the calculation completely.
How about the investor who buys individual stocks? His brokerage statement shows that his holdings have gone up in price by 27%, but he's held the stocks for several years, so that's not an annual return. Plus, that figure won't factor in any dividends he collected.
Is your head spinning yet? You're not alone. Accurately measuring investment performance is far more difficult than it first appears. I often hear from investors who complain their mutual funds are doing poorly, or that their stock picks are beating the market, but can they put a number to those claims?
There are some embarrassing examples of how the math can trip people up. Take the Beardstown Ladies, an investment club of elderly women in Illinois who shot to fame in the 1990s after they claimed to have earned returns over 23% annually from 1984 to 1993. They were hailed as stock-picking gurus and their books sold more than a million copies. It wasn't until 1998 that someone actually dug into their records and found they had been incorrectly calculating their performance: they were including contributions of new money as investment gains. It turned out the ladies had overstated their performance by 14.3 percentage points per year and had dramatically underperformed the S&P 500 index.
The ladies weren't purposefully misrepresenting themselves—they had just made an innocent error. Really, it's hard to hold this against a group of grannies whose investment guides included recipes for hearty soups and fattening desserts. But it's a different story for an industry that sells performance. Glossy ads for mutual funds declare the importance of beating the market and competitors, but then the industry goes out of its way to avoid making comparisons once you've invested. Think about it: percent signs are everywhere on ads, but almost nowhere to be seen on your statements.
Back when I was an adviser, neither of the two firms I worked for provided rates of return on account statements. At the first company, I had to create my own calculator. When I moved to a full-service brokerage, we had software that would generate detailed performance reports for clients, but I had to go into the system and do this manually: the standard client account statements still didn't include them.
"Why can't they just put my personal rate of return on my statement?" asks Michael Gayowski, an automotive product trainer in Ajax, Ont. Gayowski says he can't reconcile the performance numbers on his mutual fund fact sheets with his RRSP account statement. "If the calendar year return for my fund shows a 10% gain, but my portfolio's value increased by 18%, I know some of that is because I added money and some is my gain on investments. But why can't they just break it down for me on the front page? Heck, on any page would be an improvement."