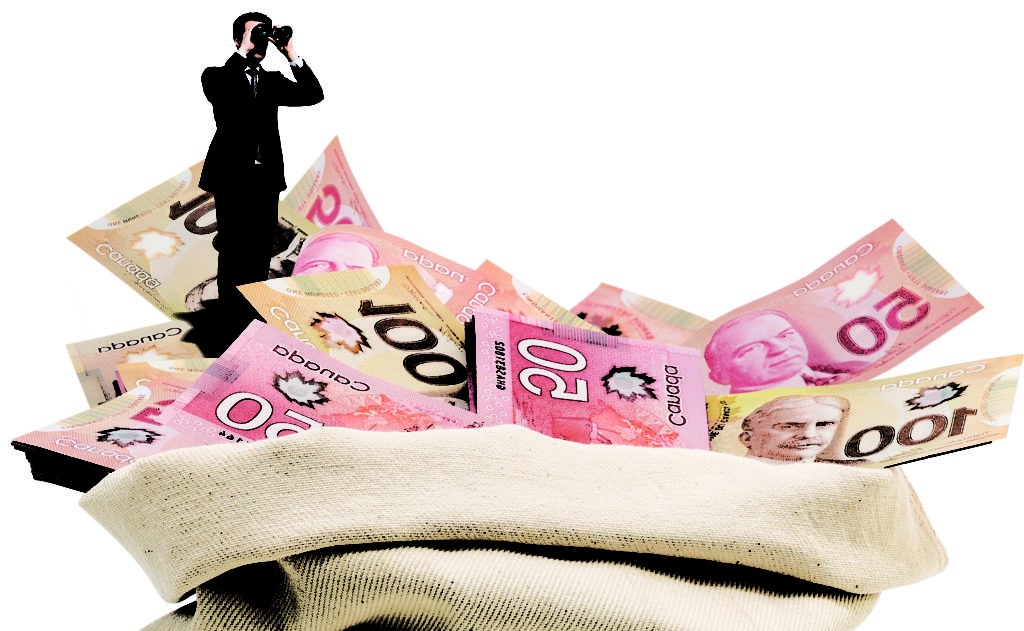 If you've bought any stocks this year, you've probably noticed that it's a bit of an odd time to be an investor. For most of 2014, Canada's market did well—between January and September our main market index, the S&P/TSX Composite, was up by nearly 15%. But it's been another story since then. Thanks to plummeting oil prices our energy-heavy market has fallen by 11.3% since September and at press time in December it was up a measly 1.7% year-to-date. The U.S. has done much better—the S&P 500 is up 10% on the year—but oil uncertainty is starting to drag their market down too. Stranger still is the fact that this correction isn't making stocks in other sectors much cheaper. Yes, there are bargains in the energy sector if you can stomach the risk, but the sell-off hasn't impacted other industries nearly as much as it has oil and gas.
With our market trading at 21 times earnings—that's on the higher end of its historical average—value investors are having trouble finding bargains outside of oil and gas. Growth investors are now paying more than they typically like to for a high-growth business. Canadian small-cap seekers are bracing for a few bad months ahead, while income investors are having to look farther afield to find companies that pay well and aren't overpriced.
Of course, anything can happen—oil could fall further, or it could recover—but consensus is that 2015 will be more of the same. "We're in a sideways market and we will be in one for a while," says Kim Shannon, president and chief investment officer at Sionna Investment Managers. In other words, if you were expecting to make a 10% return next year you'll probably be disappointed. "It's a low-return environment," she says.
Waiting for value
It's been a challenging year for deep value investors like McElvaine Investment Management president Tim McElvaine. For most of his career, this long-time fund manager has been buying companies that you probably wouldn't want to touch. He's not unlike the junkyard scavenger who's hoping to find a forgotten gem among scraps of metal. When he finds his potential prize, he buys it, hopes it will improve and then sells it when it's back in favour again. Although not everyone goes to the extremes that McElvaine does—he craves seriously down-in-the-dumps operations—that's the essence of value investing. Buy a once-attractive company that people don't want to own and then sell it when it returns to its former glory. There's one problem with McElvaine's strategy of seeking out unpopular corners of the market: "These days there are a lot fewer areas that people want to avoid," he says. It's a problem that all value investors face today: When the market gets expensive, those bargains get harder to find.
In an environment like this, you may want to follow McElvaine's lead and keep more of your assets in cash. He has about a quarter of his assets in liquid form today, up from his mid-teens average, so he can buy when the market falls. As difficult as things have become, there are still some areas in Canada and beyond that have been "dislocated," says McElvaine. For instance, Russia and Brazil are incredibly inexpensive, and will likely continue to be cheap in 2015. Russian sanctions over Ukraine have put pressure on the economy, while elections in Brazil and lower commodity prices have hurt that country.
In Canada, there are opportunities in the underperforming resource sector, but he's not as excited about oil's big fall as some others are. "It's like being on a treadmill," he says about oil companies. "It's a never-ending journey." Cash flow, he says, is dependent on a depleting resource pool so companies have to continually find more. That constant search for commodities is tough to follow.
Sionna's Kim Shannon, a more traditional value investor, would agree that while opportunities have been harder to come by, she's not waiting around in cash for a brilliant opportunity to arise. She would rather be fully invested in a diversified basket of stocks than keep a piggy bank full of loonies. "Cash gets you nothing," she says. "With inflation where it's at, cash is actually losing you wealth."
What she is doing, though, is rebalancing her portfolios by selling her more expensive names and using that cash to buy similar, but cheaper, operations. For instance, she's taken profits from Loblaw, which is trading at about 25 times earnings, and bought Metro, which is trading at about 17 times earnings. "Metro is inexpensive, but it still has a juicy return on equity," she says. "Loblaw has done a lot of good things, but investors have gotten excited. So we're doing more of this kind of thing."