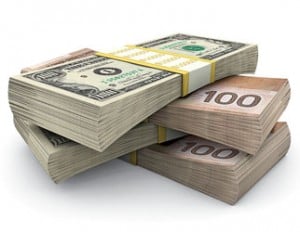 If you trade online and you want to exchange your Canadian dollars for U.S. greenbacks, prepare to get gouged. Most discount brokerages charge a fee of about 1.5%—or a whopping $150 on a $10,000 transaction. But we're going to let you in on a little-known technique that virtually eliminates currency exchange fees. It's called "Norbert's gambit," after Norbert Schlenker of Libra Investment Management in Salt Spring Island, B.C. As far as we know, he pioneered the idea of using shares listed on both Canadian and U.S. exchanges to exchange your currency for less.
Thanks to the new Horizons U.S. Dollar Currency ETF, Norbert's gambit is now easier than ever. This ETF is available in two versions. The first, with the ticker symbol DLR, is bought and sold in Canadian dollars, while the second, DLR.U, trades in U.S. dollars. The difference in price between the two versions reflects the current exchange rate: at press time, DLR was trading at $10.18 Canadian, while DLR.U was priced at $9.96 U.S.
Here's how you can use this ETF to exchange $10,000 Canadian:
Get a quote for DLR and calculate how many shares you can buy for $10,000 Canadian.
Place an order for that number of shares. The trade will settle in Canadian dollars.
Call your discount brokerage's customer service desk and ask them to take your DLR shares and "journal them over" to the U.S. dollar side of your account, where they should show up as DLR.U.
Place an order to sell all of your DLR.U shares. The trade will settle in U.S. dollars.
You'll pay two commissions and lose a little on the bid-ask spread, but you'll still save big overall. Note that this technique only works if you can hold U.S. dollars in your account. Most brokerages don't allow this with RRSPs.