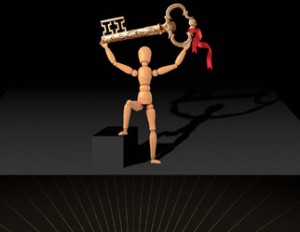 Have more how-to books been written about getting rich than any other topic? Well, no. There's another deep-seated human desire that takes first prize. You could even call it a big-seated human desire—the attempt to lose weight. But second place, that's pretty much a given. And in a report that's all about learning the Secrets of the Rich, it felt fitting to take a long, hard look at the rich vein of literature devoted to the making, keeping and growing of lots of money.
There's a strong empirical aspect to writing a book about getting rich, of course. When aspiring multi-millionaires buy such a book, they don't want to spend their seed money—the $30 investment they hope will be rewarded 30 thousandfold—on mere musings. They're looking for tips and techniques, recipes even, that have stood up to rigorous examination in the test kitchen of life. So it's hardly a surprise that many of the best-known books employ a distinct methodology: they study millionaires.
Why study millionaires? Well, most millionaires have done some things right, and some have done most things right. Beyond that, their stories are not only interesting but incredibly different. In fact, after studying the books that study millionaires, it's fair to say that there's something of a Hegelian dialectic going on—you remember: theses, antithesis, synthesis. One author asserts something, the next one makes a distinctly different and even oppositional argument, and then a third comes along and posits yet another way forward, this one taking into consideration the ideas that have come before. At least that's what we found when looking at two of the best-known books to study millionaires and a third, due to be published this September, that has its own twist on the millionaire thing, as well as a Canadian connection.
Let's begin with a classic, a book dating back to another era of social and economic uncertainty, the late 1930s. In 1937, when Napoleon Hill published Think and Grow Rich, he hit the very pay dirt he counselled readers to unrelentingly dig for. So strong was public appetite for the book that first, second and third printings sold out within months; seven decades later BusinessWeek would name it the sixth bestselling paperback business book of all time.
Born in a one-room cabin in southwest Virginia, Hill became a lawyer and writer, and in the latter capacity met famed steel magnate, philanthropist and powerbroker Andrew Carnegie, who gave him the idea of studying successful people to determine The Law of Success (the title of his original book series), as well as an entrée into their circles. Hill interviewed some 500 people, overwhelmingly men (it being the era of Great Men and Helen Keller), and analyzed their stories to produce his Thirteen Steps to Riches, predating A.A.'s catchier 12 Steps by a few years.
In his preface Hill refers to a single secret, passed along to him by Carnegie, but allows that it is never explicitly expressed. Rather, as a college sophomore hopes to find the key to human existence hidden in a Herman Hesse novel, it "will jump from the page and stand before you, if you are ready for it!" Hill does, however, detail the 13 Steps to Riches, which begin with Desire (a transcendent focus on wanting to be rich) and end with what he calls the Sixth Sense, which he defines as a subconscious "creative imagination" that enables ideas, plans and thoughts to flash into the mind. In contemporary terms, we might think of this as akin to the endorphin-influenced state achieved during vigorous exercise.
In between the First and Thirteenth will be found both the expected and some surprises. We spoke with Bill Hartley, the publisher of and a contributor to the most recent edition of Think and Grow Rich, who allows that many of the questions he fields relate to the Tenth, The Mystery of Sex Transmutation. "Every other animal responds to the call of sex only in season," Hill writes, one of many passages in which a distinctly puritanical point of view is revealed. At the same time, he writes approvingly of a quality termed "sex energy," which, to oversimplify, involves redirecting all the effort and magnetism wasted on the pursuit of out-of-season sex toward more lucrative goals. Hartley chuckles a little at this, but does not refute the principle, while noting that in The Law of Success, published a decade earlier, sex of any kind was such a delicate subject that Hill could only hint at what he meant.