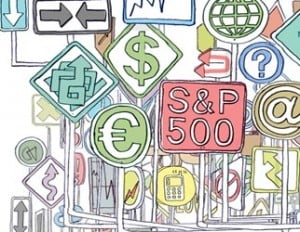 Just over a year ago, I became a convert to MoneySense's Couch Potato strategy. By investing in low-cost funds designed not to beat the market, but to match it, I'm confident I will enjoy better returns. After all, more than 92% of Canadian equity mutual funds have lagged the market over the past five years, largely because Canada has some of the highest fund fees in the world. I feel safer too, knowing that my investments are diversified across thousands of stocks and bonds.
This proven strategy (sometimes called "index investing") has exploded in popularity over the last decade thanks to the arrival of exchange-traded funds, or ETFs. These funds are similar to mutual funds in that they are pooled investments that hold a number of stocks or bonds. However, unlike mutual funds, ETFs trade on a stock exchange, so you can buy and sell them throughout the day. And rather than being run by a high-priced manager who tries to beat the market by picking winning stocks, most ETFs deliver returns similar to the overall market by buying virtually every stock in an index. As one proponent of the strategy puts it, instead of looking for the needle, you're buying the haystack.
I'm pleased with my new portfolio, but I have to admit that building it wasn't as easy as I expected. Until about three years ago, choosing ETFs was dead simple, because one company— iShares—had the Canadian market largely to itself. Today, there are three additional ETF sponsors in Canada—Claymore Investments, BMO Financial Group and Horizons—and the four companies together offer more than 100 different funds. There are also more than 800 other ETFs available on American exchanges. The variety is welcome, but it makes things more confusing for investors, including me. At least half a dozen times, I bought an ETF that looked good, only to sell it weeks later when I discovered one that followed a better index, was more broadly diversified, or had a lower fee. As a result, I blew a few hundred bucks on trading commissions. But just because I wasted my time and money, that doesn't mean you have to.
I'd like to walk you through the important questions you need to ask when choosing the right ETFs for your investment goals. You'll learn how each fund chooses the stocks or bonds it holds, and why you should consider fees, diversification and the effect of foreign currency exchange. Some of this information is complicated, but we've organized it into easy-to-follow sections, so you can get all the detail you want, or simply skip ahead to our model ETF portfolios (see "Ready to build your own portfolio?"), where I've done the heavy lifting for you. Ready to go? Then let's begin with the first question.
Which index do you want to follow?
Indexes have been around since Charles Dow created the famous Dow Jones Industrial Average in 1896. Simply put, an index is a group of stocks or bonds used to measure the performance of a particular market. For instance, the Dow includes just 30 large American companies from various sectors, but it is considered a barometer of the entire U.S. stock market. The S&P 500 and the Russell 1000—which include 500 and 1,000 stocks, respectively—are much broader indexes of large American companies. The S&P/TSX Composite Index, which includes about 200 companies, is the most popular benchmark for Canadian stocks. Other indexes measure the fixed-income market, such as the widely used DEX Universe Bond Index, which covers both government and corporate bonds.
An ETF attempts to deliver the same return as its underlying index, and it does this in a straightforward way: by owning all (or almost all) of the stocks or bonds in that index. Whereas a mutual fund manager might pick the 15 or 20 Canadian stocks he thinks will outperform the S&P/TSX Composite, an ETF would simply buy all 200.
This was easy to understand when there were just a few ETFs and they all used well-known indexes. But today there are thousands of indexes tracking every region, asset class, market segment and investment style. You can find indexes and ETFs that track Vietnamese stocks, the wind power sector, the Indian rupee, and the price of corn.