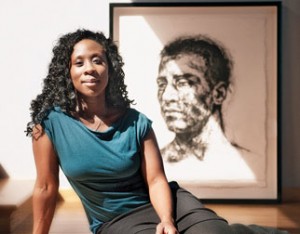 In the summer of 2010, when my husband and I were still living month-to-month in our small character apartment in Victoria, I found myself in London, England, on a stopover with several days to spare. It was one of the hottest Junes on record and I had two days to fill before continuing on to Germany, where I would finish the last draft of my most recent novel, Half-Blood Blues. With no obligations, and a very tight budget, I stepped out one morning from my cramped, damp-smelling hotel on Gower Street and wandered in the direction of Soho. The heat was in such force that even in the early hours it hovered in a thin sheen above the pavement. At the construction sites marking each street, men leaned back, mopping their brows and looking uneasily into the sky, as if afraid to mount their cranes and go even closer to the sun.
On Lexington Street, I was surprised to find myself outside the Jill George Gallery, a place my husband much admired but had never been able to visit. Knowing his interest in its artists, I went inside. What I found there changed me.
We are not, as a general rule, covetous people (well, except in the matter of books). We don't drive an impressive car; we were happy in our small three-room apartment. Our vices lack extravagance. So the greedy passion I felt when finding myself face-to-face with a certain drawing left me stupefied, moved, and more than anything, unsettled.
The artist in question, Alison Lambert, is an English painter who in recent years has devoted herself to large-scale drawings of human faces. Utterly complex and mysterious, their expressions are impossible to pin down in a single word, and reflect back a strange and always changing combination of emotions that depend entirely on the mood of the viewer. Lambert's drawings are almost sculptural in their textures. She uses a unique method of drawing and erasing and pasting on torn paper, until the ravaged face that emerges appears out of the duress and struggle of the making itself.
Though I'd seen several of Lambert's drawings online and in books, I had never until that moment seen one in person. And I wanted it.
The drawing that the lovely Jill George put up on the wall for me was titled Pyrrhus: a 35-in. tall image of a calmly troubled young man staring distractedly. (I almost wrote "searchingly" and then deleted it and wrote "beatifically" before finally changing that to "distractedly." It is this impossibility of emotions that Lambert captures. You find yourself fumbling to figure out exactly what it is you're seeing, even as on a deeper level you're already responding to it.)
By all accounts, the price of Pyrrhus was more than fair. But it was nearly everything my husband and I had saved up until then. We spoke at length, I in Europe, he in Canada, about the beautiful possibility of owning such a picture.
In the end what interests me is not how we got the picture. (We did get it. We tightened the proverbial belts, spent what savings we could, sold off valuable items we had sitting in storage; we paid it off very slowly and deliberately and with the greatest care possible.) What really fascinates me is that extraordinary impulse to possess it I felt upon first seeing Pyrrhus. There is such a strong critical gesture in our society against acquisitiveness, even as more and more is produced, and a greater and more pervasive craving is created. And yet it struck me—and strikes me each time I look at Pyrrhus—that there are different kinds of greed.
The purchase of art is unlike the purchase of any other object. You don't buy it with an awareness of its function, its ultimate use in the household. It serves no practical purpose; rather, it furnishes the mind. It slows our days and jolts us out of our routines, and reminds us, above all, in those frustrating, difficult times when things are just not going well, that there is life beyond the details. And Lambert's beautiful faces perfectly exemplify this.
Some possessions are held in trust, and only in trust, as things borrowed from the world. We are creatures who measure and mark out the passages of our lifetimes through accumulations, whether those be keepsakes or memories. For me it is the memory of that first electric encounter with Pyrrhus that I really purchased on that day. And it is that original excitement that I return to every time I see him. The heat of a London June, the smell of traffic in the streets, the blinding white sunlight in the windows. This is what I see when I look at Pyrrhus as much as anything else.
Esi Edugyan's most recent novel, Half-Blood Blues, won the 2011 Scotiabank Giller Prize for Fiction. She lives in Victoria.