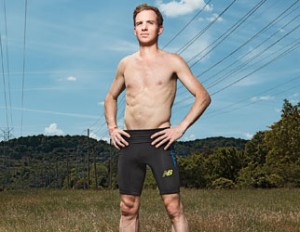 In February, the University of Guelph running community suddenly had just 10 days to raise $1 million to green-light construction of a new track-and-field facility. Because I owe so much of my running career to my alma mater, I chipped in $10,000. OK, I know what you're thinking: a Canadian Olympic athlete with money to donate? That doesn't sound right. But the truth is, while I've endured some lean years, the marathon has recently proven to be a little more lucrative.
Most Canadian national team athletes rely on government funding to pay the bills. Called "carding," this program is great for offsetting living and training expenses, but it doesn't put extra money in your pocket. Luckily, running pays well if you post a fast time in a big city marathon where thousands of athletes participate, attracting sponsors and substantial prize money. I won $15,000 at the Scotiabank Toronto Waterfront Marathon (STWM) last fall when I placed third overall ($10,000) and first among Canadian runners ($5,000).
Marathons also get media exposure at these events, and the bigger races pay appearance fees to high-profile runners, as well as time bonuses. My time of 2:10:55 at STWM secured my spot at the 2012 Olympic Games in London, making me the first Canadian to qualify for the Olympic marathon since 2000. Something as exciting as the Canadian record (2:10:09) would have paid a $36,000 bonus, but I missed by 46 seconds—people quipped I had the most expensive bathroom stop ever. Still, I'm not complaining.
In track and field, only the top athletes can make a good living, with anyone ranked below 20th in their event barely making enough to live on. Whereas in the marathon the 200th-ranked athlete can still make a decent living, because the prize pool is really deep. For that reason many more Kenyans, unrivaled at long distance running, have recently focused on the marathon instead of the 5,000-m and 10,000-m track events. At the STWM 2010, I finished 10th overall and the first nine places all went to Africans, which is a pretty typical outcome. It was a pleasant change in 2011 when I bucked the trend with my surprise bronze.
So, how did a kid from Hamilton, Ont., manage to mix it up with the Kenyans? After finishing university, I wanted to see just how far I could take this running thing, but I knew I wasn't in the position to make a living doing it. Instead, I took the Canadian Securities Course and got a job at a bank working 25 hours a week, which allowed me to train twice a day while still gaining experience in finance. A couple of years later I won a national title and made the World Championships in the 5,000 m. Those performances landed me sponsors, got me carded and put me in a position to train full-time.
I would love to say since becoming a professional runner it has been nothing but smooth sailing. However, distance running is a tough sport; there are always ups and downs. An injury in 2008 cost me the opportunity to realize my dream of going to the Beijing Olympics. Even worse, I subsequently lost my funding and earned no prize money while I continued devoting all my time to cross-training and rehabilitation.
When you're running personal-best times and collecting prize money and endorsements, it's easy to believe things will continue that way and to plan your finances on a best-case scenario. But you can be cut down to size just as easily. Many professional runners faced with a situation like mine end up switching to a conventional job, and running subsequently becomes a recreational endeavour. Thankfully, I was frugal with the money I made before my injury, and I was able to weather the storm until I was able to race again.
But even when I'm healthy and training for a marathon, running over 200 km per week, I'm still pushing the fine line of being really fit and injured. Hence, I'm always careful with my health as well as my money. In 2011, I was scheduled to run a spring and fall marathon—typical for an elite marathoner—but a lingering injury forced me to withdraw from the Virgin London marathon in April. It was a good thing I wasn't counting on any potential income, and had I raced poorly at STWM it would have cost me $15,000. One or two races a year can be the difference between floating and sinking, but when things go right, marathoning is incredibly rewarding. It's the reason many of us keep chasing the dream.
And in case you are wondering, we did reach the $1 million mark to go ahead with the construction of the track.