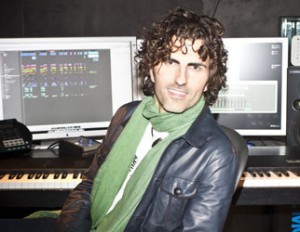 My strongest belief is that you should invest in yourself and your passion. I'm living proof that it comes back to you. I've always said that I've never made music to make money. I do it because it moves me, and I was willing to go broke pursuing my dream.Fortunately, I didn't have to. I got a publishing deal with Sony/ATV Music at the age of 22. It was a very humble contract, but I also worked as an in-house producer, session musician and arranger. At the same time, I was doing piano gigs in Toronto jazz clubs, restaurants and hotel lounges.
But I was no good as a songwriter/producer if I wasn't able to make a proper recording, and recording equipment is expensive—microphones alone can cost more than $5,000 and preamps cost $3,000 to $6,000 each. By the time I was 27, I had purchased $50,000 worth of gear and was flying all over to pitch my songs.
I had so much personal debt that it kept me up at night. But I was young and only had myself to answer to, and I had this feeling that something big was going to happen. That's when Céline Dion cut one of my songs, "A New Day Has Come."
It was a surreal moment when I received the news. I had confidence in myself, but this was the ultimate endorsement. I went dancing around the living room screaming and shouting. I knew this was big. It was the beginning.
A lot of people think that a hit song in Canada generates a lot of money, but it really doesn't. It's only when your song becomes No. 1 internationally that you begin to collect. Then songwriters can make north of a million dollars on just one song.
When that first hit came, I paid off all my debt and started putting some money away. But I didn't want to give up on my dream of recording my own songs, so I also built a recording studio in downtown Toronto. While it was a place for me to create my own music, it was also a wise investment, as it has been booming ever since.
My main revenue streams are performance royalties when my songs are played, and mechanical royalties when people buy my music. The money comes in quarterly and semiannual lump sums, and you do your best to predict how much the royalty cheque will be. One quarter can be modest while the next can be bring in ten times that amount. The uncertainty can be tough to juggle, but over time you get better at anticipating and adjusting. When I see a big cheque, I don't spend it immediately. Right off the top, 40% goes away towards taxes. Also, I have a wife and two kids, so I would be crazy not to have a safety net. I pay into RRSPs and RESPs and all those things you do for your family. After my bills and living expenses have been paid, a lot of the money must go toward growing my business.
Thankfully, when you write a hit song for someone like Céline Dion, Josh Groban or Sarah Brightman, it gives back to you in perpetuity—it's intellectual real estate with the potential for an endless stream of tenants. That helps when I take risks.
Take the 2010 Olympic theme song, "I Believe," that I co-wrote with Alan Frew. Even to pitch that theme to the Olympic consortium, I had to take a huge leap: that was a very expensive demo. I spent tens of thousands of dollars on musicians and studio time. That was money I was going to lose if they didn't like it. I knew we had something special, but there were no guarantees.
For me, financial freedom equates with artistic freedom. Despite success as a pop songwriter, I've also made two well-received piano records, Exposure and Color. Those are the achievements I hold closest to my heart. I was trained in music from an early age and graduated from the University of Western of Ontario with a bachelor of music in 1994 and it was pulling at me to do an album with just me and my piano. In order to gain more control over the record, I created a label called Bijou Records. I didn't want to have to answer to a recording industry executive who would question whether the record was commercial enough to sell.
In fact, those albums have done very well and they are probably some of the most honest work I have done. This creative freedom would be impossible without my hard work and success as a pop songwriter. By writing songs that are catchy and popular, I'm able to forget about the money and focus on making good music. Somehow, what I do connects with people and it all works out. I am one of the 1% of musicians who are able to make a living at my craft. It's a beautiful life that I live. M
Stephan Moccio has helped sell over 18 million records worldwide. He lives in Toronto and is currently a judge on Canada's Got Talent.