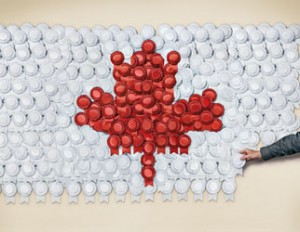 Good stocks are hard to find because the market is filled with a plethora of choices. It's difficult to know where to start. That's why we're pleased to present you with the ninth annual MoneySense Top 200 guide to Canadian stocks, which provides a helping hand. It directs you through the markets to some of the most compelling stocks Canada has on offer.
We're happy to report our modest efforts have yielded excellent results so far. Last year our All-Star stocks, which meld the best growth and value characteristics, shot up an average of 13.4%. Meanwhile the Canadian market, as tracked by the iShares S&P TSX Capped Composite Index (XIC), lagged with gains of 3.8% since our last update. (The period was from Oct. 19, 2011 to Oct. 25, 2012. Figures don't include dividends.)
Short-term results are one thing but the All-Stars really shine over the long haul. If you had bought equal amounts of the All-Stars and rolled your gains into the new stocks each year, you'd have enjoyed 15.2% average annual returns over the last eight years. By way of comparison, the S&P/TSX Composite Index climbed just 4.5% a year over the same period. The All-Stars outperformed by an average of 10.7 percentage points a year.
As you might imagine, we're highly satisfied with our performance record. If you had split $100,000 equally among the original All-Stars eight years ago, then sold them and rolled your gains into the new batch each year, your portfolio would now be worth approximately $310,000—more than triple your original investment. Again, that doesn't include dividends, which would have provided an extra boost over the period.
It's important to emphasize that while we knocked the ball out of the park over the last eight years, stock picking comes with risk and uncertainty. Our method slightly underperformed the market twice in the last eight years and we fully expect to encounter soft periods again in the future. Furthermore, some individual stocks inevitably perform poorly. We hope others will more than make up the difference but this isn't always the case. As a result, it's important to know what you're getting into. (If you're just starting your stock-picking adventure, we suggest reading The MoneySense Guide to Investing in Stocks, now available on newsstands or online at moneysense.ca/books. It clarifies the basics and addresses more advanced topics.)
Nonetheless, we hope our track record will spark your interest in this year's Top 200. As in prior years, we scrutinized the 200 largest public companies in Canada and graded each based on its investment merits. We have even provided an easy-to-use scorecard crammed full of the sort of data that should appeal to most investors. We like to think the Top 200 delivers a more objective and well-rounded take on large Canadian stocks than you'll find from any other single source.
To find out which stocks made the cut, pick up the December/January 2013 issue of MoneySense or download the Top 200. The premium package comes complete with PDF articles and Excel tables showing grades for the Top 1,000 American stocks, the 100 bonus Canadian stocks as well as The MoneySense Guide to Investing in Stocks. The basic package includes the Top 200 Canadian stocks and 1,000 U.S. stocks.